Dry skin lacks adequate oil or maybe just not able to retain moisture in it. That's why the skin appears rough and flaky. It can be hereditary that the skin experiences dryness. Or due to exposure to extreme temperatures or climatic changes, the skin becomes dry and dull. The dry skin type is more prone to signs of aging.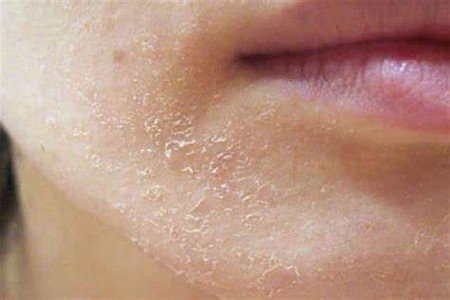 Treatment for dry skin:
In order to lock moisture and soften the skin texture, the treatment will be different.
Use a mild cleanser to clean the face (See for cleansing) and apply moisturizer meant for dry skin on face and massage gently. The massage will increase the blood circulation which in turn would improve the texture of the skin.
Also regularly use nourishing creams before going to bed. It will treat the skin and gradually decrease the signs of aging. The use of sunscreen with minimum SPF15 before going in the sun is a must. (See Homemade sunscreen recipes)
Most of the time it just requires a conscious effort to hydrate the skin.  Always apply moisturizer after washing the face. Similarly, after every wash, moisturize your hands and feet in order to avoid cracked skin. The chapped lips can be treated with a good lip balm. Just remember to use skin type-specific products.
Those who experience too much dryness and itchiness all over the body should use coconut oil and protect the skin.

There can be remedies available in your kitchen also. Try this one:
Precautions for dry skin:
The persons with dry skin type must avoid long baths and hot water bath as it will irritate or dehydrate the skin. Moreover, prolonged usage of hard water can further create dryness in the skin.
Remember do not use harsh soaps or products meant for other skin types as it will strip the skin of the natural water content.
One can also rely on home remedies like the application of olive or almond oil for natural moisturizing of skin without fear of any side effects. This will replenish the dry skin and save it from pre maturing.
Face Masks:
A natural face pack made of a mixture of milk cream with few drops of lime juice when washed after drying gives a glowing complexion to dry skin type.
Facial Masks for Dry Skin:
The following facial mask recipe will replenish your dry skin and its deeper layers, leaving your skin feeling hydrated and looking healthy and glowing.
1. Egg and Honey Hydrating Facial Mask
Ingredients:
a. 1 egg.
b. 1/4 cup of coconut oil
c. 1 teaspoon of honey
Scramble the egg and gradually add honey and coconut oil. The mass should look like mayonnaise. If it is too thick, add more coconut oil. If it is too runny, add a bit more honey.
Pour the mass into a plastic cup, close the cup tightly, and leave in the fridge overnight.
This mask is ready to be applied the next day. Scoop up some of the masks and freely apply all over the face. Leave it to rest for 10 minutes and then wash off with lukewarm water.
Keep the rest of the mask in the freezer and use any time your dried and tired face needs a moisture boost. Get more facial recipes
2. Nourishing Facial Mask:
Ingredients:
10 ml of honey 
The yolk of an egg
5 grams of dried milk powder
A homemade face mask for dry skin can be created by mixing 10 ml honey with the yolk of an egg and 5 grams of dried milk powder. The yolk of an egg will provide nourishment for the skin while the honey will help restore the pH balance. Mix the ingredients in a bowl and apply to the face using a flat wide brush. Avoid the eye and lip areas. Clean off with water after 15-20 minutes to find more supple skin which will be hydrated and look much younger.