Nowadays facelift has gained wide popularity. In the normal course, term facelift is used to a surgical procedure but in an actual facelift is the technique to reverse the signs of the aging process on the face and neck of a person. Since other techniques like acupressure and exercises (face and neck) are not very popular so people think facelift means surgical procedure. The surgical procedure is quite costly and cannot be performed with every person and also has many side effects.
Men and women in forties and fifties have witnessed the good effects of a non-surgical facelift with acupressure and exercises. People in the age group in the seventies can also get the benefit of these techniques without any side effects and at a fraction of cost to surgical procedure.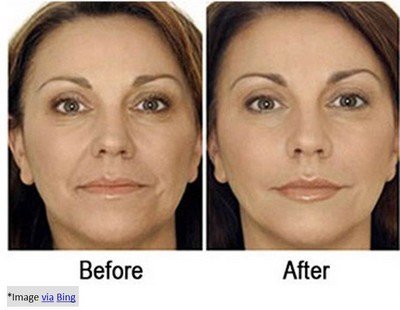 If age has started showing wrinkles, excess fats around the cheeks and double chin on your face, it may be due to stressful lifestyle, sun,  poor food habits, smoking, pollution, and hereditary factors. These may leave harmful effects on the skin and can lose the elasticity of your skin. Just go for a non-surgical facelift with either acupressure or facial exercises and get your lovely face back. Some of the facial exercises are given here for beginners.
Facial exercises to avoid double chin:
Facial exercises if performed 3 times a week can serve as a huge benefit to tone sagging neck, jowls. It will also avoid double chin and you will find positive results within a month.
Exercise 1:
Sit or stand straight and bend your head backward to look at the ceiling while keeping your lips together (do not close tightly). Start a chewing movement and repeat it 20 times. This is a good exercise to help to get rid of the double chin.
Exercise 2:
Sit or stand straight and bend your head backward to look at the ceiling while keeping your lips together but relaxed. Place your lower lip over your top lip as far as possible and keep for a count of five. Return head to normal position and repeat exercise 10 times
Exercise 3:
Sit or stand straight and slowly turn your head to the left side, maintaining your chin at the same level without dropping or lifting it. Turn your head until you feel a stretching sensation. Hold your head in this position for 5 counts and then gently move your head to the right-hand side and keep for a count of 5. Repeat 3 times.
Acupressure for a non-surgical facelift:
Another very effective non-surgical facelift method is acupressure which may change your looks10-15 years younger within a month. This facelift (Anti-aging skincare program) is very effective for men and women. This program is based on the Chinese technique in which you apply pressure on certain points at your face with your fingertips. In this facelift program, neither any cream/gel nor any other anti-aging skin product is used.
How to perform your own non-surgical facelift:
This non-surgical facelift acupressure based program has been compiled in an e-book and will demonstrate how to perform your own non-surgical facelift by using your fingertips for shedding years, firming sagging skin, reducing face lines, wrinkles and odd eye bags. Regular massaging of nodal energy points with fingertips and facial exercises will lift the skin on your face and a new color of cheeks will come out.
Stimulation of each energy point and energy channel with pressure through fingertips will correlate with another part of the body. First nodal points (energy points) of the head are stimulated then move down to stimulate the energy lines of other parts of the body.
Wendy Wilken has compiled step by step instructions in his eBook "Facelift without surgery" form to apply pressure in a certain direction on 20 acupressure points located in face, neck, hands, and arms, to reverse the process of aging and cell degeneration. Massaging and applying pressure will improve the overall circulation of blood in the body and the functioning of all the major organs. With the use of acupressure, you will be able to perform your own non-surgical facelift that will take you only 20 minutes a day (one minute on each point) for the first 30 days and thereafter you can maintain it 2 to 3 times a week or as per the requirement to maintain the facelift.
You will feel the difference within a few days and will make you look younger in one month.
Each of the 20 anti-aging acupressure point locations is clearly demonstrated in the black and white photos in the facelift without surgery. Each point has a narration that describes its location, motion required, benefit, oriental name, and other effects. On the website, Wendy Wilken has described the location of one of the acupressure points 'Yang Bai' between hairline and top of the eyebrow which supports the layer of skin and has a tendency to develop wrinkles and works on the skin and forehead muscles.
Applying pressure with fingertips and massaging the points will stimulate and build up the underline muscles tissue as explained in the with figures.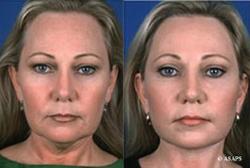 Wendy Wilken creator of this book claims that–
You WILL look younger; have fewer face lines, firmer skin tone, more facial color.
Diminish those unsightly eye bags!
You WILL feel and appear less stressed.
This eBook comes with 60 days money-back guarantee and bonus e-books amounting to $400 worth. You may find more details at the website Facelift without surgery