Rosacea is a chronic skin condition that makes your face turn red, which may cause swelling and skin sores. Rosacea skin disorder estimated to affect more than 45 million people worldwide. It is three times more common in women though it is usually more severe in men and occurs normally after the age of 30. It is harmless to skin conditions but may cause you self conscious or embarrassed. There is no known cure for this skin condition but symptoms of Rosacea can be effectively treated to reduce their severity and potential long-term effects.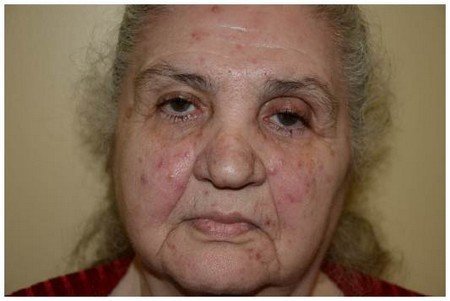 Rosacea Symptoms
Rosacea symptoms may include:
Rosacea Causes
The exact causes of rosacea are still unknown however a combination of factors likes physical stress, environmental changes, genetic reasons or emotional trauma may flare up this problem. It is commonly made worse by factors that include:
Diet (spicy foods, dairy, alcohol, etc.)
Hormonal changes (like menopause)
Rosacea-prone skin's blood vessels are inflamed and are no longer able to dilate and contract easily. The functionality of the blood vessels is compromised and slows down the blood circulation. The sluggish flow of circulation of blood negatively affects the oxygenation of surrounding tissues and removal of waste products which causes additional stress on the skin. Repeated damage inflicted by inflammatory chemicals in the skin can create irregular growth and repair of blood vessels and connective tissue. This results in thickened skin tissue and irregular, prominent veins.
Rosacea symptoms Relief
Fortunately, while there might not be a known cure, there are certainly options available that can ease both the severity and discomfort of symptoms.
Rosacea Relief Serum is a scientifically formulated and highly effective solution to rosacea.  It is specially formulated for people with hypersensitive skin. The makers of Rosacea Relief Serum believe you can minimize the symptoms of rosacea, prevent outbreaks in the first place, and makes people feel good about their skin, their face, their life.  Rosacea Relief Serum is a less intrusive method, effective, and more affordable.
Scientifically formulated with the most recent in skin-care research, Rosacea Relief Serum is designed to:
soothe and calm inflamed skin
fade redness and discoloration
improve blood circulation and reduce spider veins
restore normal sensitivity to the skin
reduce prickling/burning sensations
moisturize without causing flare-ups
Rosacea Relief Serum combines the healing effects of proven natural skincare ingredients, including green tea leaf extract, beta-glucan, and ginkgo Biloba with peptides including Renovage®, Mediacalm®, and Actiflow®. The former of that trio is clinically proven to reduce symptoms of rosacea in 90% of patients.
Is Rosacea Relief Serum safe?
Rosacea Relief Serum contains no antibiotics. When you purchase a new skin product, it's always a good idea to apply a small test application on your jawline. If you're concerned about a rash or breakout, print out the ingredient list and show it to your doctor.
Rosacea Relief Serum prevents inflammation of the blood vessels, for visibly healthier skin.
Related Post:
Natural Treatment for Rosacea Cure
———-Continued from 1