Prolonged exposure to the sun may result in the appearance of patches of discoloration on the skin, known as sunspots. When your skin is exposed to ultraviolet rays of the sun, the skin produces more melanin to protect itself and counteract the damages in collagen fibers from these UV rays. The repeated excessive exposure to the sun leads to the formation of melanin clusters. It may result in sunspots and hyperpigmentation. These sunspots are also referred to as age or liver spots. They have nothing to do with the lever. These age spots may have very little to do with age. These spots are often or gray in color and may accompany other signs of sun damage like dry skin or wrinkles on the skin.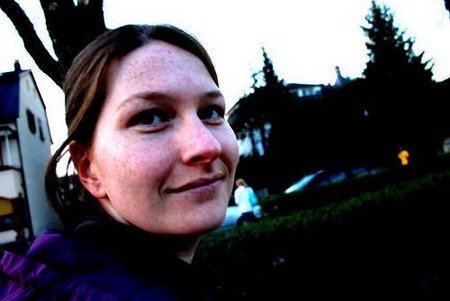 Sunspots reason:
These sunspots may vary in shape, color, and size. These spots mostly occur on those parts of the body that get more exposure to sun such as face, hands, shoulders, and at the back of the neck. Fair skin people are more likely to get these spots in comparison with those who have a dark skin color. In some cases, hormonal changes, puberty, and blockages of skin glands may cause these spots. These sunspots can make your skin look ugly and old. There are various ways to get rid of sunspots but natural lightening treatments are safer and cheap than invasive treatments. To get rid of these sunspots you need a lot of patience. Before discussing the treatment let us discuss some preventive measures.
Preventive measures for sunspots
1. Avoid going outside in the sun when sun rays are more intense. If you go outside during 10:00 AM and 3:00 PM, Try to wear a hat, sunglasses to protect your eyes from UV rays, and light color, lightweight and tightly woven material clothing.
2. Apply sunscreen of SPF15 or higher to all exposed areas 30 minutes before going outside even in the car and repeat this procedure every 5-6 hours, especially if you are swimming or perspiring.  Apply sunscreen even in cloudy weather. Make sure that your sunscreen contains protection against both UVA and UVB rays. You can prepare a sunscreen at home also.
3. Drink plenty of fluids to keep your body hydrated.
4. Eat lots of high-quality protein foods that may include raw fruits and vegetables to supply the vitamins and minerals needed for skin rejuvenation.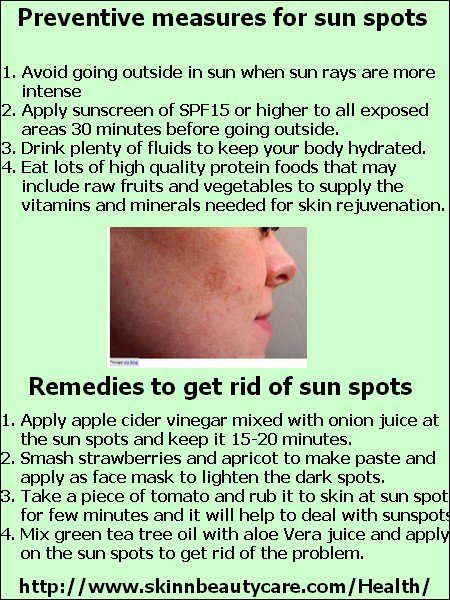 Remedies to get rid of sunspots
Homemade skin lightening remedies/products are the safest and cheapest solution for sunspots. They are very effective and at the same time nurture the skin so that you may not only have brighter skin but healthier too. Here we will discuss some of the natural, home remedies to cure, fade the sunspots.
1. One of the popular remedies to fade the sunspots is to apply the mixture of apple cider vinegar and onion juice at the sunspots and keep it 15-20 minutes. Another way of using onion and apple cider is to dip the onion slices in vinegar and place them on the patch. Alternatively, apply lemon juice on the affected portion and wash your face with lukewarm water properly and pat dry. Lemon juice will bleach the dark spots. Regular use of these home remedies will fade the sunspots and a new skin layer will emerge.
2. Smash strawberries and apricot to make a paste and apply a face mask to lighten the dark spots.
3. Citrus fruit like orange contains a rich amount of antioxidants and vitamin c that helps to prevent damaging skin cells from radicals and also helps to revitalize skin cell tissue. Tomato may also help to empower the skin to fight against UV rays. Take a piece of tomato and rub it to the skin at sunspots for a few minutes and it will help to deal with sunspots.
4. Aloe Vera regenerates skin tissues. Mix green tea tree oil with Aloe Vera juice and apply on the sunspots to get rid of the problem and getting younger-looking skin tone.
Natural treatments and homemade remedies:
There are many more effective natural treatments with homemade remedies that are compiled in an eBook in "Whitening the Skin" in which process of pigmentation; herbal/chemical skin lightening agents, exfoliation of the skin, effective lightening treatments and acceleration secrets to lighten and brighten the skin is explained. The Skin Lightening Report is a well researched, comprehensive "How-to" guide. It is aimed to tackle the problem of age spots, sun spots, melasma, and pigmentation. It helps educate consumers about existing skin lightening technologies. This guide also provides possible solutions to a variety of commonly encountered pigment problems. It includes recipes that people can instantly use to start evening out their skin tone.
This skin lightening report eBook comes with 60 days money-back guarantee. To cure your sunspot and pigmentation problem get "Whitening the Skin"