Bitter gourd or karela may be bitter in taste but it offers immense health benefits. Everything from the fruit, seeds, pulp, and leaves are beneficial for health not to forget the bitter gourd juice. Loaded with phytochemicals bitter gourd is known to have a very positive effect on liver health, diabetes, obesity, and other similar conditions.
Nutritional Value
As per the USDA, 100 grams of bitter gourd comprises of approximately:
Calories – 34
Sodium – 13 milligram
Potassium – 602 grams
Total carbohydrate – 7 grams
Protein – 3.6 grams
Benefits of Bitter Gourd Juice: 
Drinking bitter gourd juice early in the morning can help manage blood sugar levels and minimizes weight loss.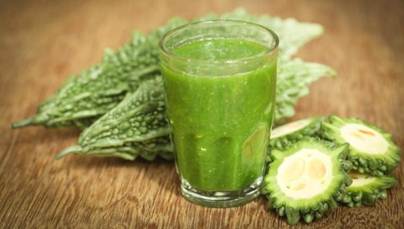 Keeps You Hydrated in Summer
 Bitter gourd juice is known to be one of the best juices to stay cool and hydrated in the scorching weather. Boasting high water content, this vegetable is a great option to juice as compared to other veggies with low water content.
Imparts glow to Skin
Bitter gourd is very useful for glowing skin. The juice is loaded with antioxidants and a rich source of vitamin A and C to prevent premature skin aging. It also helps in diminishes wrinkles.
Heals skin conditions
As the vegetable contains anti-inflammatory properties, bitter gourd or karela can be used to apply on injuries and blisters. Moreover, it can also treat several skin conditions such as rashes, sores, psoriasis, and eczema. It can also prevent skin cancer.
Reduces Bad Cholesterol
Bitter gourd is rich in potassium, folic acid, and iron. It absorbs excessive sodium. Therefore, it is very helpful in reducing bad cholesterol levels in the body. Hence, it can help in minimizing the risk of heart attack and stroke.
Good for Diabetics
Bitter gourd comprises of a polypeptide (a compound similar to insulin known as Charantin) with anti-diabetic properties. It is very helpful in reducing blood sugar levels. It also facilitates preventing irregular spikes and falls in insulin levels via metabolic regulation. The vegetable is also a hypoglycemic agent. It reduces the blood sugar level.
Aids in Weight Loss
Loaded with soluble fiber, bitter gourd is very low in calories. It helps one lose weight. Since 85% of the weight of gourd is water, the juice makes one of the best fat-burning recipes. This juice is also helpful in making insulin active. Active insulin helps the body to use sugar well while preventing it from converting into fat, resulting in weight loss.
Liver Cleansing and a Cure for Hangover
Sipping into bitter gourd juice can help wipe out the alcohol in your system. The juice helps in cleansing bowel and heals all kinds of liver problems. The vegetable strengthens the anti-oxidant activity of liver enzymes and offers protection against liver failure. It enhances the functioning of your bladder.
Boosts Body's Immune System
Bitter gourd is very helpful in fighting off viruses and bacteria in the body and strengthens immunity. It keeps allergies at bay. The antioxidants in bitter gourd work as very powerful defense mechanisms against illness. It fights off free-radical damage that may cause different types of cancer. A study has revealed that bitter gourd possesses anti-carcinogen and anti-tumor properties. It can significantly reduce the risk of cancers of breast, cervical, and prostate.
How To Make Bitter Gourd Juice
The Recipe
Ingredients Required
Bitter Gourd – 2 Medium Sized
Salt – ½ tsp
Lemon juice – ½ Lemon
Apple or Pear Juice – Half a cup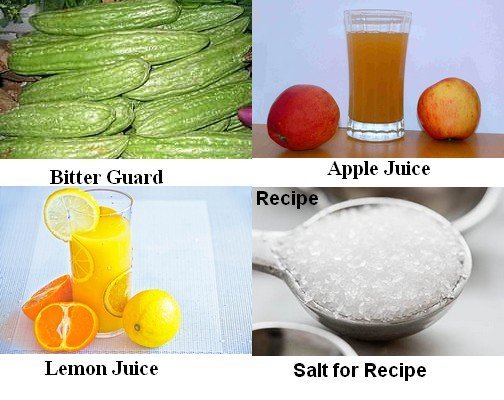 Preparation Method
Step 1 – Peel the bitter gourds using a peeler. Slice it from the center.
Step 2 – Scoop out the white flesh and the seeds of the gourd.
Step 3 – Cut the bitter gourd into tiny chunks. Soak in cold water for around half an hour.
Step 4 – Add the pieces of bitter gourd into a juicer. Add half teaspoon salt and lemon juice into it.
Step 5 – Blend the ingredients well. Add apple or pear juice and blend.
References:
https://food.ndtv.com/food-drinks/how-to-make-karela-juice-easy-tips-to-make-the-healthful-beverage-1838061
https://www.hindustantimes.com/fitness/health-benefits-of-bitter-gourd-5-reasons-why-it-must-be-in-your-diet/story-23UzjCuVfD9bt608drczmN.html
https://food.ndtv.com/food-drinks/7-health-benefits-of-bitter-gourd-karela-juice-1423896