Blackheads are a small acne mark on the surface of the skin. These can appear anywhere on the body but most of the sufferer from this problem is teenager due to hormonal changes. One can always go to a saloon or beauty clinic to get these blackheads on the nose removed but these treatments are neither cheap nor permanent. There are many treatments available to remove nose blackheads without spending too much on treatment. To get the effective results it is always better to treat skin blemishes including blackheads both from the inside as well as outside at a time.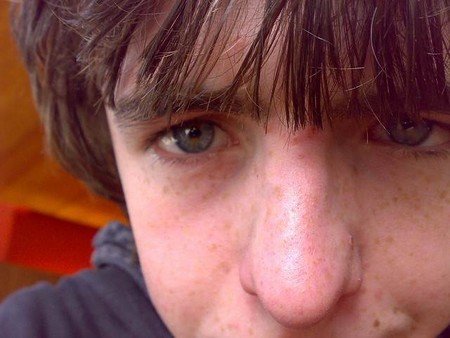 How to get rid of blackheads on the nose:
Cleansing of skin:
You have to cleanse your face twice daily with special skincare products to remove the blackheads. You can clean your skin through facial steaming so as to there is no chance for acne or blackheads to appear on your face again. For steaming take a big bowl or pot and boil water in it. Then place your head slightly above the bowl to get steam on your face. Around 15 -20 minutes are sufficient to open up your pores allowing you to easily wipe the oil off your face which is mainly the reason for blackheads. Remember to cover your head with a towel so that all the steam is not evaporated easily. However, do not lean too much as extremely hot steam will damage or irritate your skin. (People with extra sensitive skin should consult the doctor before going for steaming.) You can also use homemade cleanser recipes for cleansing the face.
Homemade facemasks:
In most cases, the acne sufferer neglects the use of face masks. Honey and egg white are considered to be very effective in removing the blackheads.
Egg and Honey Hydrating Facial Mask
Ingredients:
A. 1 egg.
B. 1/4 cup of coconut oil
C. 1 teaspoon of honey
Scramble the egg and gradually add
honey
and
coconut oil
. The mass should look like mayonnaise. If it is too thick, add more coconut oil. If it is too runny, add a bit more honey. Pour the mass into a plastic cup, close the cup tightly, and leave in the fridge overnight.
This mask is ready to be applied the next day. Scoop up some of the masks and freely apply all over the face. Leave it to rest for 10 minutes and then wash off with lukewarm water. Keep the rest of the mask in the freezer and use any time your dried and tired face needs a moisture boost. Applying egg and honey hydrating facial masks and scrubs will help to remove the dead cells and at the same time nourish the skin surface. You should apply homemade facemasks rich in vitamins and minerals on a weekly basis. Get more facial recipes
Home remedy for blackheads:
Mix a pinch of turmeric powder in one tablespoon of coriander juice and apply it on the washed face every night. The remedy is effective for blackheads and pimples.
3-Step acne-free skincare system:
Another remedy to remove blackheads and make your skin smooth is the 3-Step acne and blackhead treatment system. This system keeps the (i)Hormonal balance one of the main cause of blackheads and acne(ii) Unclogs the pores of the skin through deep cleansing (iii) Apply the facial cream rich in essential vitamins, nutrients, and minerals to keep your skin moisturized, glowing by preventing drying of skin and clogging of pores. This is also a 100% natural remedy endorsed by the doctors and herbalists for its quality and utility. This 3-step acne recovery system works in the following three steps:-
Step-1
Herbal supplements: Daily use of herbal supplement helps in restoring the internal balance of the body system (hormones), flushing out of toxin & maintaining the proper digestive system, liver & circulatory functioning which are very essential for maintaining optimal skin health.
Step-2
Facial wash: It offers a deep cleansing wash that gets rid of the acne inflammation by unclogging the pores of the skin. It also gets rid of the bacteria that are the main causes of an acne breakout. Face wash should be used twice daily on wet skin for 2-3 minutes, take precaution that it should not come in contact with the eyes.
Step 3:
Protection cream: It contains the essential vitamins and nutrients in order to keep the skin beautiful & glowing and draws moisture into your skin preventing tight, flaky, drying feeling without clogging of pores. Protection cream should be used after 5 minutes of facial wash to ensure the skin is completely dry.
This 3-step acne treatment system contains 11 herbal ingredients and attacks the acne bacteria from inside as well as outside.
Related Post: