Autumn is the time of the year when everyone looks forward to outdoor activities and excursions. The slight dip in temperature provides the much-needed relief from hot weather before you curl up yourself indoors in winter. However, the dry and cool air can pose several challenges for your skin.  Dry and dull skin, skin irritation, eczema, chapped lips, freckles, age spots, fine lines, hair issues like dandruff, cracked heels, and sun-damaged skin of the body are the major concerns in the autumn season. Therefore, with a change in weather, it is most important to bring suitable change in your skincare regime and save your beautiful skin from damage.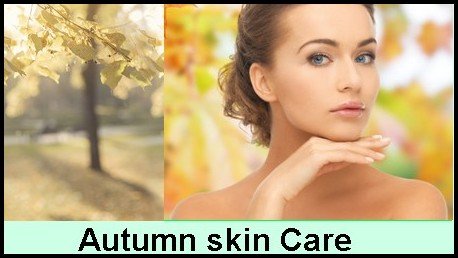 Moisturization is the solution to dryness
The lack of moisture in the air causes dryness in the skin. In order to rectify this skin issue, liberally moisturize the skin of your face and other body parts. Not only in the morning but also at night apply a good moisturizer or night cream and massage to moisten your skin. This is the best way to avoid minor problems like itchiness, irritation, and skin flakes. Even oily skin types need to moisturize their skin. Proper hydration of the skin also keeps a check on aging problems like wrinkles, fine lines, patchy skin, and dull skin. The choice of moisturizer depends upon the type of skin you have.
Drinking plenty of water is another essential way to hydrate your skin. It would help to keep your skin clean, healthy, and glowing.
Dry skin types and sensitive types suffer a lot in autumn as the dip in humidity and temperature further deteriorate the condition of their skin. They should modify their skin routine promptly in autumn and try to keep the skin as much hydrated as possible. Using home remedies for dryness of the skin is a safe and reliable way.
Block the sun rays with sunscreen
In autumn, the sun is not that stronger like in summers. But that does not mean you are safe from sun rays. Sunscreen is still very important for your skin. Hence apply and reapply it liberally to avoid tanning and spots on face, hands, arms, back, and feet. Remember, your sunscreen lotion must have at least SPF 15 in order to avoid the harmful effects of sun rays.
Detangle Hair problems in autumn
Autumn weather also affects your hair. Seborrhea or dandruff is a common problem in autumn. Use over the counter anti-dandruff shampoos and treatments to remove dandruff. For those who experience chronic dandruff problems, they must consult a dermatologist for proper treatment.
Dandruff also affects the skin of the face. So if you have acne or other skin issues, first treat your dandruff and you can see the good change on your facial skin as well.
Skincare for other body parts in autumn
Keeping your face radiant is not enough. Your whole body speaks volumes about your health and your skincare. Dry hands and feet look ugly. Use a good body lotion or body oil to moisturize your arms, elbows hands, knees, and feet. You may also use almond oil or sesame oil to lubricate your skin. If your heels are cracked and dry, moisturize them well twice a day. Apply some foot cream before retiring to bed and wear socks. This is the best way to heal your heels.
Dry lips can be treated with lip balm. Apply a good lip balm or ghee or milk cream frequently during the day to get glossy lips.
Avoid too much rubbing or scrubbing of the skin while bathing as it causes dryness and irritation. Gently wash your skin with mild cleanser or soap and rinse well. Pat dry your skin and then moisturize generously. Hot baths are another cause of dry skin and are best avoided.
The use of air humidifiers in rooms and offices helps to maintain the moisture level and relieve the skin from dryness.
People with severe skin diseases such as eczema, psoriasis, and keratosis pilaris must take extra precaution in autumn. They should adjust their skincare routine at the onset of autumn to avoid flare-ups. Check out for allergens that aggravate their skin condition and avoid such things. Moisturizing is the keyword for such people. Also, it is in their best interests to consult their dermatologist and take medications accordingly to avoid chronic skin issues.
Autumn is the time to have fun, celebration, and enjoyment. Do not let skin issues dampen your spirits. Follow these vital skincare tips for autumn and have healthy skin in this season.
You can get detailed information about skincare method and preparation of home recipes at "Natural Skincare Guide-Homemade recipes"