There are so many new food delicacies coming up today due to the high demand of people wanting to taste more variety in food. Tofu is one of the most demanded vegan items today but many non-vegetarian eat it with the same love for food! Tofu is believed to be found approx.2000 years ago and today there are various mouth-watering tofu recipes available all around the globe.
How to make Tofu?
Soak 3 cups of dry soybean overnight in the fridge.
Remove the discolored beans and transfer some beans at a time to the blender with sufficient water. Blend.
Transfer the same to a large pot/pan. Now, add 12 cups of water to the processed beans.
Now, boil on low-medium flame for approximately 20 minutes.
Keep simmering and stirring frequently until the foam is formed, do not over boil.
Turn off the gas and strain the mixture; remove as much as milk as you can.
Place this soy milk on gas and heat up to 180 degrees; add 75ml lemon juice to the boiled soy milk.
Turn off the gas and stir gently for 5-10 minutes until the curd separates.
Thereafter, skim the curd into a mold, press a heavy object over it, and leave for 20-25 minutes. Your Tofu is ready!
Nutritional Value and Benefits of Tofu
Consuming per 100 grams of tofu will give you 52.47 g protein, 10.3 g carbohydrates, 7.2 g fiber, 477 mg calories.
It also gives you a small amount of Vitamins B, A, C, D, B12, iron, zinc, magnesium, potassium, calcium, sodium, folate, etc., at the same time.
It helps to reduce the level of bad cholesterol i.e. LDL in the body.
Regular consumption of tofu helps to maintain good cardiovascular health, brain health, prevent anemia.
Tofu contains isoflavones, which aids in managing the symptoms of menopause.
In addition, Tofu has anti-cancer properties, which help to reduce the risk of a certain type of cancer such as lung, breast, and prostate cancer.
It is rich in calcium hence help to prevent bone-related diseases like osteoporosis.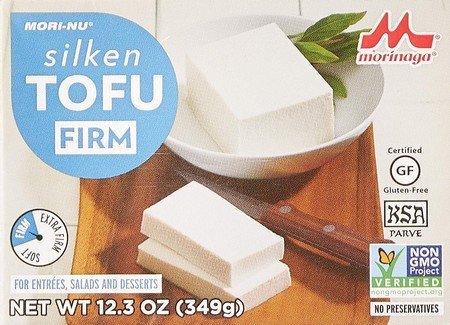 Buy Here—-Tofu Firm, 349g
Paneer versus Tofu
| | | | |
| --- | --- | --- | --- |
| Sr.no. | Nutrients | Paneer | Tofu |
| 1 | Calcium% | 45% | 25% |
| 2 | Calories per 100 grams | 320 | 70 |
| 3 | Calories gained from fat | 220 | 35 |
| 4 | Protein per 100 grams | 20grms | 8grams |
| 5 | Cholesterol per 100 grams | 90mg | 0mg |
Interesting Tofu recipes
With so much to gain from this soybeans product, it is but natural to know how tofu can be included in the diet in interesting ways. Here are delicious tofu recipes to enjoy at home-
Tofu fried rice
Ingredients:
250 gms cooked rice
1tbsp vegetable oil
200g stir fry baby vegetables
100g green peas
1tbsp dark soy sauce
100g smoked tofu
Finely chopped ginger and garlic
1 red chili, sliced
Method:
In a non-stick pan, heat some oil and fry the cooked rice to 8-10 minutes until the rice is golden brown. Also, add chopped chili, garlic, and ginger to it.
Mash the smoked tofu in a utensil.
In another pan, add green peas and other baby vegetables and mix them well with tofu as well as soy sauce until it's cooked properly. Cook till the time veggies are soft.
Combine veggies and rice, give it a good mix and your tofu fried rice is ready to serve.
Vegan tofu scramble
Ingredients:
2 cloves crushed garlic
1tbsp olive oil
1 finely chopped red chili
Smoked paprika ½ tsp
1tsp oregano
225gram smoked tofu
½ tsp cumin powder
½ finely chopped onion
Spinach (small quantity)
2 slices toasted sourdough
½ Diced courgette
Method:
To make this tofu recipe heat some olive oil, add chili, garlic, and onions one by one, and cook them well. Add some seasoning.
After 4-5 minutes, add cumin, paprika, and oregano, and cook for a couple of minutes.
Add spinach to this and stir till it softens.
Add mashed tofu to the pan mixture while stirring gently. The final look will be similar to scrambled eggs.
Serve Tofu scramble with toasted sourdough slices and enjoy.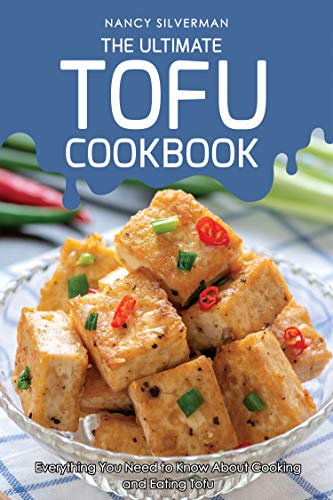 The Ultimate Tofu Cookbook: Everything You Need to Know About Cooking and Eating Tofu—-Shop Now
Chilli Tofu Ramen Noodles
Ingredients:
300 grams non-egg ramen noodles
1tbsp olive oil
4-5grms shredded ginger
1-2tsp garlic oil
1 clove crushed garlic
2 finely chopped spring onions
½ tsp sake/mirin (rice wine)
2 red chilies
1 sliced mushroom
A handful of bean sprouts
1-2 cups vegetable stock
1tsp dark soy sauce
A handful of winter greens(kale/spinach)
150 grams marinated tofu, diced
Method: 
In a large pot add sliced mushrooms, bean sprouts, garlic, ginger, mirin, red chili, and add 2-liter water to it.
Boil it for 30 minutes until all the veggies are cooked and the stock releases the fragrance.
Turn off the gas and strain the mixture to a new pan. Remove ginger, garlic, and chilies from it and discard them.
Blanch the wintergreens and bean sprouts and drain them well.
Take four bowls and put boiled ramen noodles equally into it.
Now divide the marinated tofu, bean sprouts, and veggies into four sections and put into the four bowls.
Pour adequate stock in all four bowls, add some soy sauce and garnish with spring onions.
Tofu tacos:
Ingredients:
6-7 corn tortillas
Salsa -1 cup
½ finely chopped cabbage
12 tsp lemon juice
400-gram firm tofu
1tsp garlic powder
1 tsp oregano
1tsp smoked paprika
A pinch of black pepper
2tsp groundnut oil
3-4 tbsp Dairy-free soy yogurt
Method:
For this tofu recipe, add 1-2 tsp lemon juice and some cabbage to a bowl of salsa.
Cut tofu into 8-10 cubes of 2cm each.
Mix all the spices in groundnut oil and add the tofu-salsa mixture to it and stir well.
Now, fry the tofu pieces for 2 minutes.
Fill the mixture into warmed tortillas, squeeze some soy yogurt over it, and serve it with any sauce of your choice.
Tofu soup
Ingredients:
1tbsp sesame oil
1 crushed garlic clove
4-5grms shredded ginger
1-liter vegetable stock
A handful of sesame seeds
100gram smoked tofu
1 sliced mushroom
1 sliced kale
4 shredded nori snack sheets
Method: 
Heat the vegetable stock, add mushroom, ginger, garlic and simmer for 5-6 minutes.
Add kale to the stock and boil for the next 2-4 minutes.
Turn off the gas and discard garlic from the stock.
In frying pan heat sesame oil and fry Tofu for 4-5 minutes until the Tofu turns golden brown and crispy. Turn off the flame.
Put tofu into a deep soup bowl and add an adequate amount of vegetable stock mixture into the bowl.
Garnish with nori sheets and sesame seeds.
With all the crucial information in your hand, do try the above Tofu Recipes to attain good health with Tofu!
References:
https://www.quora.com/What-is-the-difference-between-tofu-and-paneer
https://www.olivemagazine.com/recipes/vegetarian/best-ever-tofu-recipes/
Related post-