Eyes are the attraction and focal point of your face. The makeup of your eyes can change your looks and personality. You should always apply such techniques and the choice of eye shadow that suit the color and shape of your eyes. Eye shadow is used to make your eyes look more attractive as it adds depth and dimension to the eyes. We have seen many women who do not know the correct technique to apply their eye shadow. Putting eye shadow in the correct way is not much difficult but it is just a matter of applying the right technique suitable to your personality. You can apply eye shadow in many ways depending upon your desired look. The important thing is that blending well before applying eye shadow and makeup.
Find some top tips to apply eye shadow:
1. First of all, apply a base coat on your eyes as you do your face. You can also apply the foundation to the eye area. Make sure your foundation color has a matching color to your skin. Foundation is applied to protect your face and give a smooth look. The most important thing is blending properly.
2. Blending is very important hence blend properly. Blend one eye and then use a brush to apply to the other.
3. If you want dramatic eyes, dip your eye shadow brush, into water thereafter into the shadow, then apply. It will give you a deeper and dramatic color.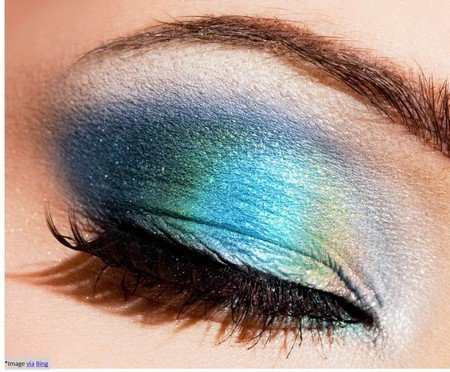 4. Blue eyes person should apply browns, taupes, purple, violet, gray, deep blue, and black eye shadow.
5. Brown eyes person should use champagne, copper, brown, apricot, khaki, and beige. Funky colors include royal blue, tangerine, hand hot pink shadow.
6. Blue eye shadow should only be worn only if you either have fair skin or very dark skin, black or platinum hair and brown or gray eyes.
7. Small eyes person should use light shade powder for the center of the lid and a darker shade shadow to the outer edge of eyes.

Party Girl Eye Shadow Palette, 1 Kit, Honeybee Gardens – $29.99
from: VitaSprings.com
8. Almond-shaped eyes light shade powder from your eyes lashes up to the brow, a medium shade on eyelid, and the darker shade on the outer of the eyelid.
9. Round eyes person should use light-colored shadow over the entire lid and a darker shade in the crease. Apply eyeliner on top and bottom of lids and use mascara on upper outer lashes.
10. Wide-set eyes person should use a darker shade in the inner corner. Concentrate eyeliner and mascara on the inner corner of the eye.
11. To get a younger look to your eyes apply lighter shadow in the inner corner of the eyes and for a larger look to your eyes apply darker shadow in the middle of your eyes?
12. To get attention with your eyes apply different color shadow with the color of your eyes or clothes.
While practicing all these steps you should take notice of what works best for you. If you use wrinkle creams to make your face look more youthful, then any makeup that you have will be much more effective.