Christmas is a merry time when you not only enjoy your long holidays but also the irresistible authentic Christmas dishes and sweets. Well, it is good to forget your diet plans and have cheat meals occasionally but that does not mean you end up multiplying inches on your waist! However, you do not have to worry this Christmas as the below mentioned healthy Christmas menu ideas will save you from that unnecessary weight gain!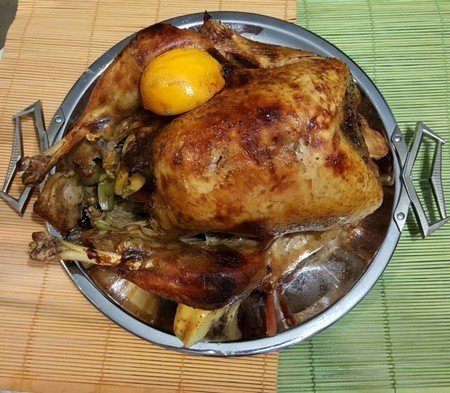 Traditional recipes with side effects and the need for a healthy diet
Late night parties, family gatherings, office Christmas celebrations, etc., will surely make you lose your self-control on a healthy diet. However, before you decide on giving up your diet, read the disadvantages of traditional Christmas dishes.
Stuffing turkey can be porous as the stuffing can absorb the salmonella bacteria present inside the turkey and the same may enter your stomach if not cooked properly.
Pies can multiply your calories even before you realize it.
Pudding and cakes also have too many calories and other unhealthy ingredients like gelatine.
Healthy Christmas Menu Ideas to try
Charred sweet potatoes laced with honey butter and lime: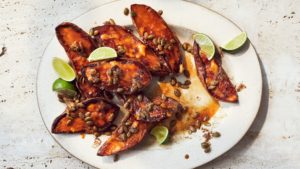 Ingredients:
Potatoes (6 small sizes)
1/2 cup olive oil
2tbsp honey
3tbsp hot sauce
1/4th cup golden brown roasted pumpkin seeds
Kosher Salt and sea salt as required
6tbsp unsalted butter
Lime wedges(for serving purpose only)
Preparation:
Put the rack in the center of the oven and pre-heat to 425 0. Now, place sliced sweet potatoes (6 small sizes) on a baking sheet.
Pour ¼-cup olive oil and sprinkle kosher salt over it and bake for 20-30 minutes. While the potatoes are being baked in a small bowl, smash unsalted butter and honey and pour hot sauce into it. Mix them well and again sprinkle kosher salt over them. Place baked potatoes in a platter, spread the hot honey butter mixture over it, and sprinkle the golden-brown roasted pumpkin seeds and a pinch of sea salt over it.
Serve it with lime wedges.
Roasted sweet potatoes will not cause you any harm, unlike fried potatoes. Plus, pumpkin seeds contain essential anti-oxidants, some important nutrients, and fiber.
Crispy beetroot and mozzarella salad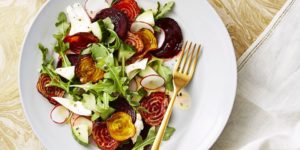 Ingredients:
2tbsp olive oil
1 ½ beetroot  scrubbed
10 thinly sliced radishes
1 finely chopped seedless cucumber
1 arugula
3tbsp vinegar
1/2 tbsp salt and pepper
3tbsp olive oil
Related post- Health Benefits of Olive Oil
Preparation:
Firstly, preheat your oven at 4500 In a medium bowl, add 2 tbsp olive oil and 1/4th tsp salt over sliced and scrubbed beetroots.
Secondly, mix it well and arrange the beetroots on 2 large baking sheets. Roast marinated beetroots for 20-25 minutes until they turn crispy brown.
Do not forget to switch racks in between.
Take a large bowl, add the roasted beets (cooled), radishes, finely chopped seedless cucumber, arugula, 3 tbsp vinegar, 1tbsp olive oil, and ½ tsp salt and pepper into it, and give it a good mix. Garnish with mozzarella before you serve.
Rich in minerals and vitamins the dish is definitely delicious and nutritious for your family.
Classic roast chicken:
Ingredients
1 fresh chicken
1 lemon
3 carrots (cut into large pieces)
½ lb potatoes
1 yellow onion
3 tbsp melted butter
1 bunch fresh thyme
1 clove garlic
Kosher salt
Preparation:
Dress the chicken, preheat your oven at 4250. Take a baking dish, add carrots, potatoes, onions, garlic, or another vegetable of your choice in the desired quantity, and place the chicken over it.
Next, brush butter all over the chicken, stuff the cavity with lemon, and sprinkle finely chopped thyme over the chicken. Roast chicken on 1650 for 1 hour or until totally cooked.
Cover it with foil paper and leave for 15 minutes and it's ready to serve.
Roasted chicken can be eaten without worrying about calories!
Butter and garlic mushrooms: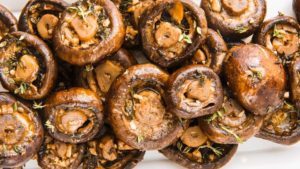 Ingredients:
1 1/2 lb. mushrooms
2 minced garlic cloves
4 tbsp melted butter
2 tsp finely chopped thyme
1 tbsp vinegar
Kosher Salt and black pepper as required
Preparation:
Whisk butter, garlic, thyme, vinegar in a medium bowl; meanwhile preheat your oven at 3750.
Take a large baking sheet, spread mushrooms over it, pour the butter mixture over it and sprinkle some fresh black pepper and salt over it.
Spread the mixture evenly on all mushrooms, spread it in one layer, and roast for 15-20 minutes until golden brown.
This dish is good for high protein intake. It is easy to make and very low on calories.
Scrunched Cabbage Salad with Grapefruit and Chiles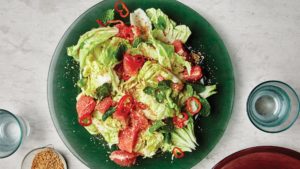 Ingredients:
1 cup mint leaves
1 head of Napa cabbage
2 grapefruits
¼ cup pickled chili vinegar
2-3 tbsp olive oil
1 tbsp hot pickled chilies
2 tbsp sesame salt
Preparation:
Cut cabbage into two half and then cut its leaves in two unequal half and put them in a large bowl.
Add vinegar, olive oil, salt to the bowl and mix well
Cut grapefruit into pieces after discarding its pith, remove its seeds and add it into the cabbage mixture.
Now, add some mint leaves, drizzle some olive oil on the mixture, and mix well.
Afterward, remove the mixture to a platter, drizzle some more oil, if needed, and garnish with pickled chilies and sesame salt.
This salad is a bowl full of nutrition and great for the festive season!
Lentil Bolognese spaghetti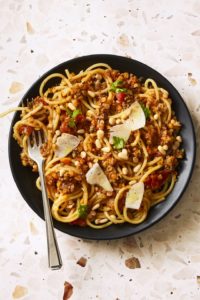 Ingredients
2 cloves garlic
1 small onion, chopped
1/2 tsp. dried oregano
pepper
8 oz. ground beef
1 tbsp. tomato paste
one (14-ounce) can whole tomatoes
1 tbsp. olive oil
One medium carrot, chopped
1 lb. spaghetti
1/3 c. toasted pine nuts
Grated Pecorino cheese( for serving)
Kosher salt
6 oz. button mushrooms
1/2 c. dried red lentils
1/4 tsp. red pepper flakes
Preparation:
To start, finely chop mushrooms, carrots, garlic, and onion in a food processor.
In a large skillet heat some oil, add finely chopped vegetables, red pepper flakes, oregano, some salt, and pepper, and cook for 4-5 minutes(until tender).
Now, add beef and cook for another 10-15 minutes.
Add tomato paste and cook for the next 1-2 minutes.
Now, add lentils, 1/4 tsp salt, pepper, and 2 cups water to the skillet and simmer for 15-20 minutes.
Meanwhile, cook pasta as per directions mentioned on the pack.
Cool the pasta, add it to skillet, mix well and serve hot with sprinkled toasted pine nuts and Pecorino cheese if needed.
This can be the topmost healthy Christmas menu ideas for meat lovers! It is rich in protein, vitamins, and flavor.
Roasted salmon with crispy potatoes and broccoli
Ingredients
1 1/2 lb. skinless salmon fillet
1 head broccoli
3 tbsp. olive oil
pepper
1/4 c. mayonnaise
One large red onion
1 lb. Yukon gold potatoes
Kosher salt
1/2 clove garlic
1 tbsp. fresh lemon juice
Preparation:
While the oven is preheated at 4500F, take a large baking sheet and toss broccoli, onions, and potatoes over it.
Season it with some salt and pepper, spread it evenly, and roast it for 15 minutes.
Now season salmon with salt and pepper, add it into the oven along with vegetables and continue roasting until salmon is tender and vegetables turn golden brown.
Take some mayonnaise in a small bowl, add lemon juice and garlic to it, and mix well.
Serve salmon and vegetables with mayonnaise sauce.
Remember, baked vegetables provide vital minerals and vitamins to your body. Moreover, salmon helps to meet your body's daily protein requirements without any unwanted fats or calories. (You can skip the mayonnaise sauce if needed)
Related Post:
Ref links and credits for recipe  images:
https://www.goodhousekeeping.com/
https://www.bonappetit.com/
https://www.delish.com/