The disorders of muscle soreness and joint pains are very bothersome and painful. The women generally have unbearably nightmarish painful menstrual cramps. These discomforts require the assistance of warm heat compress to soothe the agonizing pains. It's easy to make these hot compresses at home than buying from the pharmacies.

H-Joint & Muscle Formula
from: Healing Natural Oils
Here are some of the DIY hot compress at home and its benefits.
Benefits of DIY Hot Compress
The DIY hot compress helps relieve pain, increases blood flow, relaxes muscle spasms, supports quicker healing of wounds, treats numerous skin and eye problems.
The heat helps- A warm compress is used for support to heal multiple physical ailments especially of joints and muscle soreness. The warmth transferred by compress on infected areas rush blood and oxygen supply promoting faster healing. The heat compress subdues muscle cramps and shrinks pains by its soothing warmth.
DIY methods for Heat Compress:
1. Aromatic Warm Compress
 An innovative heat compress can be made by using a clean tube sock. You need dry oats or beans and raw rice to put inside the sock. For aroma, add powdered peppermint and cinnamon or any other aromatic addition you can think of. There is the option of the kitchen herbs to be added such as herbal tea bag or essential oil like lavender oil and chamomile oil for quicker benefits.
Fill the sock with the material described after mixing them well leaving one-fourth portion vacant to tie its knot. If you have a regular health issue, then sew the end to make a permanent heat compress. Do not tie the end tighter if you do not want the hard compress.
Put this package into micro-oven and heat it for 30 seconds. Check if it's hot enough, if not then heat it further on 10-second increment, till you find its temperature perfect. Initially, use the compress with a piece of cloth in between compress and the affected area.
2. Steaming Warm Compress
Take a clean small towel or any cloth and wet it with the water to the point when water drips from it. Then take a Ziploc or any resealable plastic bag. Pleat the cloth evenly for proper heat distribution. Heat it with the bag kept open for 60 seconds or till it's hot to your liking. But ensure the bag is well sealed otherwise hot water can hurt the skin. Another way is that you can use hot water directly on the cloth then take a tong to keep it inside the bag. Try to use a heat compress wrapped in a towel to be used at the affected part.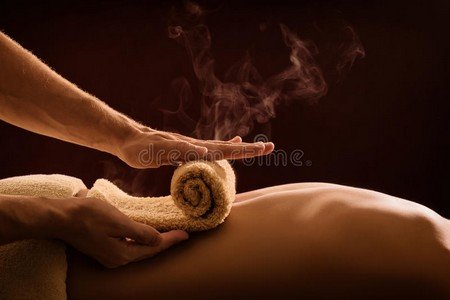 3. Use Glass Bottles
Use a glass bottle to make your very own heat compress. Glass bottles are ideal as they retain heat in comparison to plastic bottles. Fill the glass bottle with the hot water and screw the cap tight so no water should drip out. Wrap a towel around and use it over the affected area.
4. Dry Heat Compress with cooked rice
Heat 3 or 4 tablespoons of cooked rice in the microwave for a couple of minutes into a Ziploc bag. Take it off from the microwave till sufficiently hot. Wrap a washcloth around the bag and use it as needed.
5. Dry Heat Compress with Salt
Heat one cup of salt on a thick bottomed pan. Wrap that hot salt in clean cloth then tie it to use as a heat compress. Reheat salt once this cools down.
Avoid Dry Heat compress for dry skin as it will dehydrate the skin. Use any DIY hot compress at home keeping the skin condition in mind.
Related Post:
10 Natural DIY Beauty and Skincare Tips
DIY Hair Masks to Make Your Hair Healthier and Stronger
References:
https://www.top10homeremedies.com/diy-homemade/prepare-hot-compress-home-benefits
https://www.wikihow.com/Make-a-Warm-Compress