Hands remain busy throughout the day. They become rough, callous, and dry for the burden of works. Without proper care, your hands become drier, and they will eventually lose their charm. If you are wondering how to make your hands soft and beautiful, you need to follow some hands care tips and home remedies.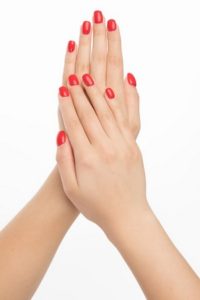 Best hand care tips for soft and beautiful hands
These include-
Use a good quality hand moisturizer on your hands at least thrice a day. Choose moisturizers according to the season (e.g. a light nongreasy moisturizer in summer).
Go for a monthly manicure to nourish your hands.
Wash your hands in lukewarm water throughout to keep moisturizer of hands.
Massage your hands at least five minutes at night to keep the blood circulation in your hands.
Scrub your hands with an effective exfoliating agent at least once a week.
Wear rubber gloves to protect your hands when doing household chores (like washing dishes, gardening)
Home remedies to get soft hands at home
Nature has provided with a lot of ingredients to take care of hands. Here are wonderful home remedies to treat dry hands with natural ingredients besides the above hands care tips:
Sweet almond oil
The fatty acids are present in this oil in good proportion. The fatty acids help to make your hands soft and moisturize your skin. Rub a considerable amount of almond oil on your hands and leave it until it gets absorbed in your skin. Follow it at least once a day. Besides, you can leave it overnight.

CND Almond Moisture Scrub – $41.50
from: BeautyStoreDepot.com
Aloe vera extract
To keep your hands soft, aloe vera extract is effective. The good amount of polysaccharides serves to keep your hands supple and moisturized in a healthy way. Take 1 tablespoon of aloe vera gel and apply it to your hands. Thereafter, rinse your hands with water after 15-20 minutes. The regular application keeps your hands healthy.
Honey
The texture and composition of honey is a great boon to your skin. Hydrating your skin and relieving its pores are the effects of using honey. The emollient nature nourishes and softens your hands. Take a small quantity of honey and spread gently over your hands. Leave for 30 minutes before cleaning your hands with water.
Sugar scrub
The dry skin cells on your hands cause your skin to become dry. Using a sugary mixture helps to exfoliate and lets your skin breathe well. Your hands become hydrated and soft. Blend ½ tablespoon of coconut oil and 1 tablespoon of sugar and apply the scrub gently. Thereafter, apply an effective moisturizer after cleaning your hands.
Egg yolks
The conditioning properties, the presence of lecithin compound in egg yolk help to hydrate your skin and make your hands soft. After whisking one egg yolk well, apply it on your hands for 15-20 minutes. Use mild soap and water to reduce the foul egg odor.
Oatmeal scrub
When dry skin becomes a big problem for your hands, the oatmeal mixture is a perfect solution for it. Oatmeal hydrates your skin and increases skin barrier functions. Mix 1 tablespoon powdered oatmeal and ½ tablespoon coconut oil well and apply it on your hands. Then, leave for 10-15 minutes and rinse with water.
Coconut oil
The emollient properties of coconut oil improve the hydration of the skin and increase the lipid levels on the skin. So, your hands become softer with topical use. Apply 1-2 teaspoon of extra virgin coconut oil to your both hands and wear a pair of gloves to absorb oil into your skin. In addition, leave for some hours or overnight for the best results.
Petroleum jelly
Its powerful moisturizing properties hydrate your skin and soften your hands. Apply a thin layer of petroleum jelly to your both hands and leave overnight. Now, put on a pair of light cotton gloves to let the jelly absorb into the skin.
Lemon, Tomato, and Olive Oil Skin Pack
The antioxidants in tomatoes rejuvenate your skin. Oil and lemon protect your hand skin from aging damage and keep them soft, supple. Mix the juice of half a lemon, 1 teaspoon olive oil, and some slices of tomatoes well. Apply this mixture on your hands and rinse off with water after 10 minutes. Repeat this 2-3 times a week.
Yogurt and Multani Mitti scrub
The antioxidants in yogurt nourish and brighten your hands.  While the natural properties in Multani Mitti remove the dry skin cells. Mix some amount of yogurt with a little yogurt well apply this scrub to your hands and leave for 10-15 minutes. Then, rinse with water. Applying the mixture not only acts as an exfoliating scrub but also lightens the skin.
Using the above-mentioned home remedies are simple and easy to execute. You can include them in your regular skincare regime and can see the positive effects within a few days. So, try these home remedies now!
Reference links-
https://www.stylecraze.com/articles/effective-home-remedies-to-get-soft-hands/#AlmondOil
https://parenting.firstcry.com/articles/magazine-simple-but-effective-solutions-to-get-soft-hands-naturally/
Related posts:
Natural Remedies for Strong and Beautiful Nails
Cure 12 Skin issues with Healing Natural Oils