Raspberries have been in existence for centuries. However, despite the vast availability of this fruit, most people aren't aware of its amazing benefits. A member of the rose family, this fruit is native to northeast Asia and Europe.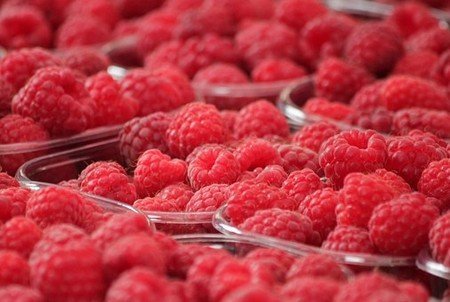 Here are some of the amazing health benefits of raspberries, one of the world's healthiest berries:
1. Boosts Digestive Health
A cup of raspberries has around 8 grams of dietary fiber. It will prevent you from constipation and manage smooth bowel movement.
2. Anti-Cancer Benefits
These benefits of raspberries are contributed by their anti-inflammatory phytonutrients and antioxidant. The presence of ellagitannins can switch signals delivered to budding cancer cells, keeping them benign (dormant). It can also inhibit the number of existing cells by directing signals that boost cell death (apoptosis).
3. Helps Maintain a healthy weight
Rich in soluble fiber, raspberries can help maintain a healthy weight by giving you a sense of fullness, and preventing overeating. The fruit is devoid of fat and replenishes your body with essential minerals and vitamins. A cup of these berries contains just 50 calories and gives your body almost half of the recommended daily intake of vitamin C.
4. Beautiful Hair and Skin
Raspberries are helpful in maintaining good skin and hair health. The fruit is rich in vitamin B, which can curb hair loss and even reduce graying. Raspberries contain folic acid that induces hair growth and imparts a healthy shine. Vitamin C helps maintain a healthy scalp.
These yummy berries are also helpful in maintaining younger-looking skin. The credit goes to the high content of antioxidants that slow down the aging of the skin. Anthocyanins present in red raspberries are helpful in maintaining youthful skin and a beautiful complexion. In addition, Omega-3 and Omega-6 fatty acids in raspberries are helpful in treating skin conditions such as psoriasis and eczema.
5. Healthier Bones
Raspberries are rich in manganese. It is an important element for maintaining healthy strong bones as it boosts their mineral density.
6. Helps Maintain Blood Sugar Levels
The natural sugar present in raspberries is absorbed into the bloodstream slowly. Hence, it prevents sugar crashes. Intake of these berries will also curb sugar cravings and mood swings.
7. Boosts Brain Health
Raspberries contain folate, potassium, and antioxidants that offer neurological benefits. Folate can curb the occurrence of Alzheimer's disease. It also inhibits cognitive decline. Rich in potassium, raspberries boost blood flow to the brain and improve cognition, ability to concentrate better, and improves neural activity.
8. Fight Infections
A cup of raspberries contains 54% percent of the daily recommended vitamin C. The vitamin is a powerful water-soluble antioxidant that helps the body to develop the strength to fight against infectious agents. Also, it helps the body to get rid of free radicals (cancer-causing agents) in the body.
9. Improve Eye Health
Raspberries comprise zeaxanthin, a powerful antioxidant known for its ability to protect the eye from age-related macular degeneration.
10. Maintain Healthy Blood Pressure
Rich in potassium (186 milligrams a cup), these berries are also low in sodium content (1.2 milligrams). It relaxes the blood vessels to maintain healthy blood pressure.
With so many amazing health benefits raspberries provide, it is time to include these into the daily diet and stay healthy inside out. Read this article to explore the immense benefits of raspberries.
Related Post:
10 amazing Health Benefits of Amla(Indian Gooseberry)
References:
http://www.whfoods.com/genpage.php?tname=foodspice&dbid=39