The pious festival of Navratri is celebrated with grand fervor all over India. The devotees worship the 9 different avatars of Goddess Durga. With the nine-day-long festivals comes the season of fasting & feasting. Fasting comes with numerous health benefits. If you're planning to fast, it's the right time to adopt a few healthy Navratri fasting tips. Interestingly, it can help detoxify your body while maintaining adequate nutrition.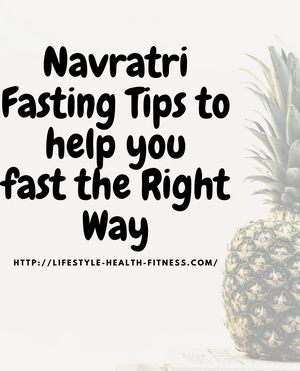 Best Navratri Fasting Tips
Surprisingly, Navratri fasting is pretty much dependent on how you choose to fast & what you choose to eat. Whatever may be your reasons, choices & beliefs we'll provide you with the best Navratri fasting tips to help you fast the right way. After all, a healthy body makes a happy soul!
Hydration is essential
Quite essentially one of the best Navratri fasting tips, hydration ensures proper body functioning. Whether you're fasting or not, it is extremely important to stay hydrated. Water, fresh fruit juices, coconut water, lemon water, buttermilk, and skimmed milk replenish the body with adequate fluids and salts. Also, take green tea instead of regular tea and coffee.
Include fiber-rich foods
As fiber-rich foods take longer to digest & break down, eating fiber-rich foods can help you keep fuller for longer. Include fibrous foods like sweet potatoes, raw bananas, Sabudana, Rajgir, singhara, bottle gourd, and pumpkin to curb the hunger pangs. You can also bake or roast vegetables instead of deep-frying them.
   Related post- Delicious Navratri Foods and Recipes
Take small meals at regular intervals
One of the vital Navratri fasting tips includes never starving yourself. Eat small meals to satiate your hunger. This will help maintain blood glucose levels and prevent you from feeling low. Eat fresh fruits, nuts at regular intervals as prolonged starvation can cause weakness and fatigue.
Steer away from sugar
Keep away from refined sugar as much as you can. Processed sugar is unhealthy and makes you prone to health problems. Instead, you can opt for natural sugar products like sugarcane, jaggery, and honey which are healthy alternatives to sugar. In addition, you can also make sweets with dates & nuts or kheer with apples and makhana.
Binge on healthy snacks
It's normal to feel hungry at odd times during fasting. Munch on some roasted nuts, makhanas or foxnuts, and sweet potato fries which are extremely healthy and rich in vitamins and iron. Adopt this healthy snacking for a healthy food indulgence.  Also, avoid Namkeens or packets of chips as they are high in salt & fat content.
Get adequate proteins
Dairy products are a must for every auspicious occasion. Low-fat dairy provides the needed protein for sustained energy. Have skimmed milk, sugar-free fruit shakes, or make some kheer or paneer to ward off hunger pangs. Milk proteins are a good substitute for lentils & dals restricted during fasting.
Therefore, gorge on healthy foods this Navratri which is the most beneficial option. Besides food, proper sleep is also necessary. Make sure you sleep for 7-8 hours every day. Try to relax and go for some meditative exercises to completely detoxify the body.
Related post-
Important Tips for Diabetics for Festive Time
References-
https://timesofindia.indiatimes.com/life-style/health-fitness/diet/navratri-fasting-2019-here-is-what-you-should-do-and-avoid-during-navratri-fast-things-to-avoid-on-navratri-fast/photostory/71336555.cms?picid=71336556
https://www.timesnownews.com/health/article/navratri-fasting-tips-4-tips-from-a-nutritionist-to-help-you-fast-the-right-way/499055