For ages, olive oil has been extensively used for various purposes. One of the most popular uses of olive oil is for skin and beauty care. The benefits of this oil are not new. Our ancestors have always relied on oil from olives to enhance the beauty. Here we bring some of the best beauty secrets that involve skincare with olive oil in different forms.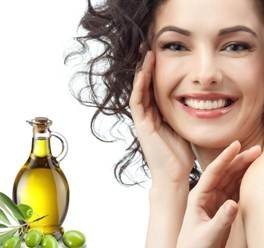 Skin moisturizer
Due to the presence of plenty of antioxidants in olive oil, it proves to be the
best moisturizer
for every skin type including sensitive skin types. Simply wash your face with water and massage a few drops of this oil on your face. It will create a protective layer on the surface of the skin thereby defending your skin from damaging free radicals. Unlike other oils, it does not obstruct the skin pores. You can use olive oil both as a day moisturizer as well as a night cream. Its daily use will bring out the best results on your skin.
Skin exfoliation
Olive oil can be used for
exfoliation
of facial skin as well as the skin of the body. Mix some drops of this oil with sea salt and apply it on your face to get rid of the dead cells. You will discover a brighter and smoother skin beneath. For body exfoliation, mix sugar with olive oil drops and apply the same to the body.
Face mask
You may also prepare a healthy
face mask
using this oil and get younger-looking skin with regular usage. Make a smooth paste out of honey, egg, and olive oil and apply it for some time. Wash off to discover a healthy glow on your face. Apply this face mask once a week for further improved results. Ingredients and method of preparation of face mask are given here:
Ingredients:
1 tablespoon honey
1 egg yolk
1/2 teaspoon olive oil
1 tablespoon yogurt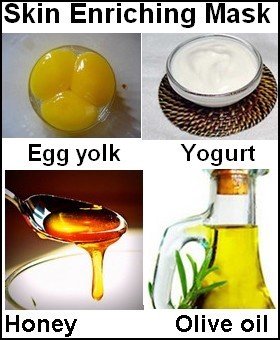 Make a smooth paste by mixing all the ingredients properly. Egg yolk and olive oil will penetrate the skin to moisturize it. Yogurt will gently exfoliate and cleanse the skin and will tighten the pores. Whereas honey will stimulate and smoothen the skin. You may get more facial recipes at Natural Skin Care Guide
Makeup remover
Dab a cotton ball in olive oil and use it to remove eye makeup. You would experience smoother skin around your eyes with regular usage.
Dip your fingertips in olive oil and gently massage the area around your eyes before going to bed. You will feel the smoothed and soft skin around your eyes if you use this remedy regularly.
Treatment of acne with olive oil
Add 4 tsp of sea salt to 3 tsp of olive oil and mix well. Apply the mixture on the face for a couple of minutes and then rinse off with warm water and soap. It will unblock the closed pores of the skin and help in treating acne.
Other crucial benefits for skin care with olive oil.
Massage olive oil on the skin to reduce stretch marks. You may also apply a few drops on your nails and on cuticles and massage a bit. Soon you will get naturally shining and healthy nails.
After shaving/ waxing the skin, apply some olive oil to moisturize the skin. It will also reduce skin irritation if any and will provide soothing relief.
Olive oil is an amazing source of vitamins A and E and antioxidants as well. Besides, enriching the skin, it is also utilized for attaining beautiful and lustrous hair. It is recommended that the extra virgin type of olive oil should be used to provide the best benefits to the skin and body.