Sandalwood tree is mostly found in India and some other countries in South Asia. Sandalwood powder is used to make many cosmetics and aromatics products. It is used in many religious ceremonies and ancient Ayurvedic medicines for various skin conditions. It is used in the form of powder and oil for skincare and treating many skin-related issues.  It rehydrates the skin and also helps in tissue regeneration.  Its antiseptic and astringent properties are useful to treat acne. Sandalwood promotes healing and helps to relieve the symptoms related to acne flare-ups. You can also use sandalwood to tone up and moisturize your skin. It is also used in many herbal products to treat sunburn, rashes, pimples, removing blemishes, and other skin conditions.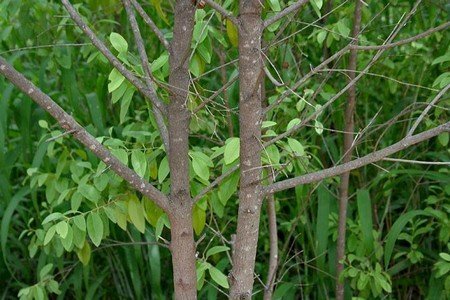 It is gentle on the skin and has a calming effect. It helps in maintaining a natural balance of the skin and regulates oil production.
It can be used to treat acne and scars. Mix two tablespoons of sandalwood powder with rose water and apply the thick layer of this face pack on your face and let it dry. After 15-20 minutes wash it off and apply natural toner. Regular use of this face pack will diminish the acne and scars.
Sandalwood contains powerful anti-oxidants and anti-inflammatory properties that help to improve the blood circulation, removes toxins out of the body. Its face mask works as an excellent anti-aging treatment.
Sandalwood powder can be used to repair the sun-damaged skin and removing suntan. Mix some cucumber juice with rose water, curd, and sandalwood powder to make a smooth paste. Apply this paste on sun-damaged or tanned skin and wash your face after 20-25 minutes. It will give more even skin tone and will help in reducing the stains.
It has been used for a long time by the teenagers to cure pimples. A paste made by mixing sandalwood powder, turmeric, and water is very effective in reducing random eruptions of zits.
It is also helpful in reducing wrinkles. Mix sandalwood powder with rose water and glycerin to make a paste and apply it on your face regularly. Wash your face after 20 minutes. It will help in reducing the wrinkles, getting clear skin, and make you look younger.