Precautions and Home Recipes
We have discussed cleansing, toning and now we come to the next step of skincare regimen "exfoliation". Exfoliating skin simply means that you're removing the dry and flaky skin, dead skin, toxins, Pollution and build up from the skin so that it's stimulated, clean, and prepared to make a new skin that is radiant, clean and fresh.
Skin cells of human beings normally grow and replace old ones every month but this may vary from person to person.
This is part of the skin's own natural process of exfoliation. Sometimes, the old skin sticks around and doesn't flake off completely, and this can cause cracks, lines, itchiness, blotches, blemishes, and more on the surface of the skin. When this dead skin doesn't completely fall off, it can also clog pores, which can eventually lead to breakouts and acne that can be quite unsightly or uncomfortable. To safeguard your skin from these problems exfoliation becomes necessary.
Cleanse your face with a soft cotton cloth daily but exfoliation is recommended to remove excess dead skin cells as per the type of your skin.
Exfoliating skin:
The dry skin must exfoliate not more than thrice a week. The normal skin and combination skin needs exfoliation twice a week. However, oily skin should exfoliate only once a week. Exfoliation should be done once in a fortnight in case of sensitive or mature skin. If your skin is too sensitive then give your face rest for a month before you resume your normal regime. This will allow your skin to regain its natural balance and moisture levels.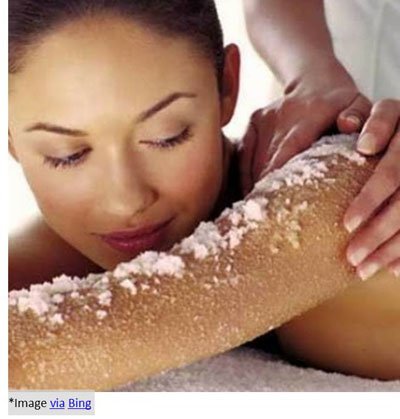 After exfoliation fresh new skin comes to the surface and prevents breakouts and blemishes and clogged pores.
Types of exfoliation
There are three types of exfoliation; manual, chemical, and enzyme skin exfoliation. Since we believe in the natural process of skincare regimen hence we will discuss manual/natural exfoliation. For facial skin, gently washed cloth is the right thing for exfoliation.
You can prepare a paste by mixing olive oil with finely ground oatmeal, brown sugar, and dried milk powder to use as an exfoliator. Wash your facial skin properly and apply this mixture on your face with your fingertips by massaging gently. You can also use papaya as an exfoliator. Another recipe for exfoliation is:

Glytone Exfoliating Serum 11 – $46.00
from: BeautyStoreDepot.com
Honey Almond Scrub Recipe:

1 tablespoon of honey
2 tablespoons finely ground almonds
3 tablespoons of fresh orange juice
2 teaspoon olive oil
Mix all the ingredients and stir briskly to incorporate all the ingredients. Massage the skin in a gentle upwards circular sweeping motion. Rinse well with warm water. This recipe can be used for all skin types. One the useful resource of natural skincare regimen "Natural Skincare Guide- Homemade Recipes" in one of its chapter has explained details about exfoliation precaution and homemade recipes
You can find more scrubbing recipes suitable for different types of skin and Complete skin care regimen for every type of skin with precautions and recipes at: " Natural Skincare Guide-HomeMade Recipes"