Buttermilk ( or Chhachh) is an ancient treatment to maintain health and to cure different diseases. It is a derivative of the butter blending procedure. It is available in most Indian households that are mainly consumed after a meal. Buttermilk is made by using a few spoons of natural yogurt mixing with water well. To enhance the taste and therapeutic benefits, spices like pepper, cumin powder, green chilies, curry leaves are crushed into buttermilk.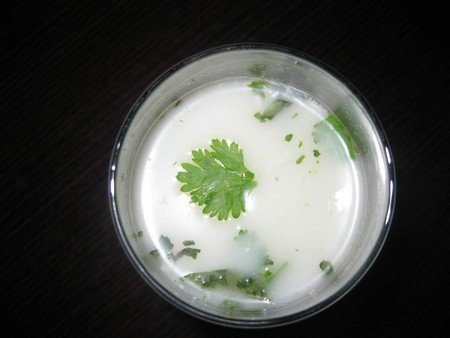 The Amazing Benefits of Buttermilk
Some of the amazing benefits of buttermilk are as follows:
Treats indigestion
Buttermilk relieves stomach irritation, irritable bowel syndrome, infections, and reduces body heat. So, it enhances digestion and helps in nutrition.
Helps in bone growth
The rich calcium content helps to support new bone growth. Moreover, it also supports cell communication and muscle contraction.
Detoxes body
This summer drink is a rich content of riboflavin or vitamin B-2 that helps in a process to detox your body. Moreover, it also helps to produce uric acid, a strong antioxidant, and also helps in energy production.
Provides energy
One cup of this amazing drink provides 8.1 grams of protein that is important for healthy and strong bones, skin health, and muscles. Thus, people willing to increase weight can depend on this superb buttermilk drink.
Keeps body hydrated
Buttermilk is rich in electrolytes that are one of the best elements to fight against the heat and loss of water from the body. In addition, this amazing drink also benefits summer-related issues such as prickly heat and uneasiness.
Reduces cholesterol
Studies indicate that there are substances and bioactive proteins in buttermilk that help to diminish cholesterol. Interestingly, drinking buttermilk regularly also lowers blood pressure.
Relieves constipation
This drink is a natural therapy that prevents constipation and other bowel issues.  Consuming a glass of buttermilk reduces bowel movements.
Good for weight loss
Buttermilk is a helpful drink that checks hunger. It becomes a perfect drink for those who want to lose weight. Therefore, this satiation checks people from eating unhealthy junk foods.
Related Post- Reduce Weight with Asanas
Increases energy level
Buttermilk contains enzymes that make you healthy. It provides minerals, potassium, and magnesium to maintain energy levels. Drinking buttermilk keeps the body hydrated.
Several cooking applications
It is an amazing ingredient that can be used to tenderize meat. Also, it adds a special flavor to poultry and different kinds of seafood. Interestingly, you can use it in different cold soups during the summertime.
Increases immunity power
Buttermilk induces the growth of good bacteria and minimizes bad bacteria from growing in the gut. So, these bacteria help to improve the immune system of the body.
Reduces cardiovascular issues
Consuming buttermilk is also beneficial to reduce the cardiovascular issues. It improves the proper function of the heart and protects from heart-related issues.
Purifies skin
Buttermilk helps to detox the body so the skin becomes smoother and zit-free. It hydrates the body, gives your body a natural glow. Besides, its usage is also comforting and relaxing.
Strengthens teeth
Buttermilk nourishes tissues of nerves and muscles of the teeth. The rich content of calcium and vitamin D strengthens teeth and gums.
Reduces ulcers
Butter helps to neutralize acids in the stomach by cooling the stomach ailing. Because of the cooling effect, buttermilk is a natural remedy to reduce ulcers. This excellent drink is also beneficial for GERD.
Reduces sores
The good and healthy bacteria in buttermilk do not induce the growth of yeast. Holding buttermilk in your mouth before swallowing helps to cure mouth sores.
Relieves Hemorrhoids
The natural properties in buttermilk help to reduce hemorrhoids. Use buttermilk with a mixture of rice and banana for this purpose.

H-Hemorrhoids Formula 11ml – $32.95
from: Healing Natural Oils
Reduces cold and cough
It is an antidote to fight the common cold and runny nose. So, people suffering from cold problems can depend on it.
Treats insomnia
It is a great relief for treating lack of sleep. The nutrients in buttermilk help to reduce insomnia and induce sleep.
How to make tasty buttermilk?
Simple Buttermilk or Chachh recipe
Ingredients
1 cup curd, 2 cups water, ¼ tsp cumin (jeera) powder, ¼ tsp coriander powder, a pinch of chili powder (optional), ¼ tsp rock salt
Process
Put everything in the blender and stir well. Finally, serve this yummy buttermilk after adding some coriander leaves ana avail benefits of buttermilk in a few minutes.
Buttermilk can be a great remedy for different diseases. So consume buttermilk not only to avoid health hazards but also for its delicious taste.
==============================================================================
FAQs on buttermilk
What are the amazing benefits of buttermilk?
Buttermilk consumption reduces indigestion problems, loses weight, relieves constipation. The properties work well to cure heart disease.
Does buttermilk decrease cholesterol?
Its constituents are helpful to keep the cholesterol under control.
Does buttermilk strengthen bones?
Yes. Buttermilk contains vitamin D and calcium. They help to make the teeth and bones stronger.
Can it lower skin problems?
Regular use of buttermilk helps to keep the skin wrinkle-free and youthful. It also tightens the skin.
Can buttermilk be used in the food industry?
Yes. It can be added to the dairy product to increase the flavor. It is used to prepare whipped cream as it is an effective emulsifier. Also, it is used in whipped cream. Moreover, to improve the nutritive value, you can mix it with milk-based drinks.
Can it help in better skin and hair care?
Yes, of course. Its properties help to moisturize, brighten, and tighten the skin. Also, it is used for preparing hair masks.
How to know that buttermilk has spoiled?
When it gives a really bad odor and is not easy to pour, then it is time to throw it away.
Related post-
Cool Summer Drink Recipes for Summer
References-
https://www.conserve-energy-future.com/benefits-of-buttermilk.php