Benefits of Mustard Oil for Skin and Health
Acts as a natural sunscreen:
Mustard oil is loaded with vitamin E and is quite thick in consistency as a result of which it proves to be a great natural sunscreen. Vitamin E guards your skin against harmful UV rays and prevents wrinkles and premature aging.
Natural cleanser:
Mustard oil works great as a natural cleanser because it cleans your pores without clogging them. It also opens closed pores and disperses instantly. Due to such properties of mustard oil, you can use it as a natural makeup remover.
Lightens dark spots and reduces tan:
Mixing mustard oil in equal quantities with certain ingredients like gram flour, lemon juice, coconut oil, curd, etc., can help to reduce tan. Similarly massaging your face daily with mustard oil can lighten dark spots.
Gives you an acne-free glowing face:
Applying a few drops of mustard oil on your face daily can help you keep acne and rashes a bay and also get a clear glowing face. This is because mustard oil has anti-fungal and anti-bacterial properties.
Natural moisturizer for your skin:
Mustard oil is loaded with a richness of vitamin E, which helps you moisturize your skin. If you have dry skin, just rub few drops of mustard oil in a circular motion and regularly and enjoy the smooth and radiant skin naturally.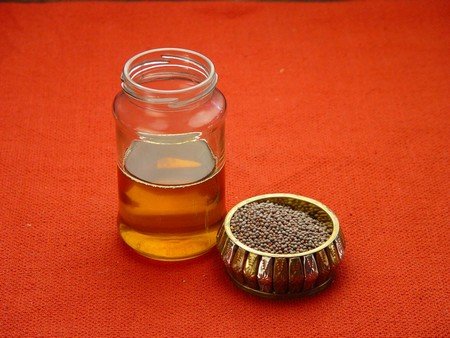 Benefits of mustard oil for health
Heals chapped lips:
As per Ayurveda, chapped lips are a result of excessive heat in the body. Applying 2-3 drops of mustard oil on your lips daily before bed can help you heal chapped lips by reducing heat in the body.
Guards against various infections:
Mustard oil has anti-bacterial and anti-fungal properties. Hence, both external and internal usage of mustard oil helps aids in fighting various infections in several ways.
May give relief from cold and cough:
Mustard oil has natural healing properties, which help to clear congestion in the respiratory tract. All you have to do is rub a few drops of mustard oil on your chest before going to bed. Another way is to take mustard oil steam or rub a mixture of 2-3 garlic cloves and warm mustard oil (1tbsp) on your feet.
Improves heart health:
Mustard oil is a great source of MUFA, which reduces bad cholesterol in the body and maintains healthy blood circulation. Moreover, mustard oil rich in alpha-linolenic acid lower the risk of Ischemic heart disease as compared to sunflower oil.
Improves blood circulation and cleanses body:
As per Ayurveda, massaging your body with mustard oil aids in better blood circulation and releases muscular tension. Moreover, it activates the sweat glands of your body, which helps to remove toxins from your body through sweat. Thus, acting as a natural cleanser.
Related Post:
Reference:
https://www.bollywoodshaadis.com/articles/
https://www.femina.in/beauty/hair/
https://www.india.com/lifestyle/