Curd is not only nutritious food but also an essential ingredient to support your beauty care as well as hair maintenance routine. Packed with proteins, essential minerals, and vitamins, it is indeed a wholesome, easily available, and cheap ingredient for skincare and
hair care recipes
. Include natural curd in your daily diet to get daily dose of proteins, magnesium, zinc, potassium, phosphorus, vitamins A, B2, B12, C, B12, riboflavin, and folate among other nutrients. It would strengthen your body from within and cater to essential nutrients to your hair as well. Treat your hair with curd home remedies and keep hair problems away.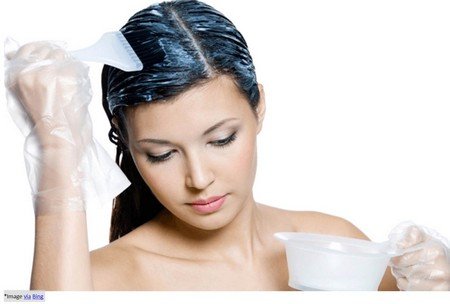 Best Curd Home Remedies for your Hair
Your hair needs natural ingredients from curd to stay problem-free. Major hair problems like dandruff, dullness, itchy and flaky scalp, hair fall, etc require the goodness of curd. Check out curd home remedies for hair and do give them a try-
For Dandruff
Having dandruff can be annoying and it also leads to itchy scalp. Check these natural remedies with curd-
First Remedy-To treats dandruff, mix some curd in your regular henna pack, and apply it as usual.
Second remedy – You need
4 tablespoons of curd,
3 tablespoons of onion juice, and
1 tablespoon of fenugreek powder.
Apply this mask all over your hair and can leave this for 30-40 minutes. Then wash your hair with a mild shampoo. This mask will help you to get rid of dandruff and itchy scalp.
Third Remedy-
You may also apply smoothened curd on the hair and leave for 20 to 30 minutes. Wash off with cold water and shampoo your hair. It is the simplest way to attain strong, silky, and dandruff free hair.
Itchy and flaky scalp
To get rid of the itchy and flaky scalp, make a smooth paste of curd and two spoons of lemon juice. Coat your scalp and hair with the paste and wash off after half an hour. The recipe would remove flakiness, itchiness, and dandruff and leave your hair moisturized like never before.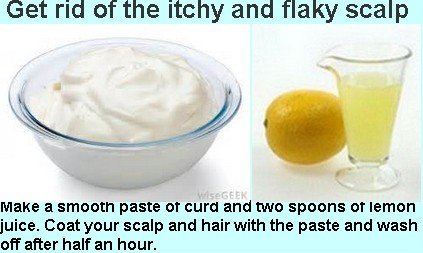 Dull and dry hair 
Taking care of dry hair is a big challenge if you like to keep your hair open. So here are the curd home remedies for treating dry hair.
First Remedy- If you have very dry hair then take
4 spoons of curd,
1 egg and
some drops of olive oil
Blend well and leave the paste on your hair for 10 to 15 minutes and rinse. This home remedy will add moisture, luster, and strength to your dull, dry hair.
Second Remedy-
4-5 tablespoon of gram flour,
3 tablespoons of olive oil along with
3 tablespoons of curd.
Mix all these thoroughly, leave this pack for 20 minutes, and wash your hair as usual. Don't be surprised when you get lustrous locks with so little effort!
Third Remedy-
Due to pollution or hair styling products, our hair tends to lose its shine. Taking care of hair and the use of natural ingredients can get that shine back.
2 tablespoons of fresh aloe Vera gel,
2 tablespoons of curd and
olive oil.
Mix them well. Apply this mask on your scalp and massage it for 10 minutes. Leave it for 30 minutes and then wash as usual. The result is ever-shining hair.
Split-ends
Split ends are another common hair problem. For this you need-
Half bowl of curd and
Mashed papaya of about 250 grams
Blend them well and apply the smooth paste on your hair and leave it for an hour. Rinse your hair with shampoo and water. Your hair would be adequately nourished and hydrated and split ends won't be a problem anymore.
Sun-damaged hair
Curd is the right diet for your sun-damaged hair. Take
4 spoons of curd
cocoa two spoons,
honey, and
olive oil. Make a paste and whisk thoroughly. Apply on your hair for at least one hour. Now, wash and shampoo your hair as usual. Homemade methods and conditioners provide nutrients and glow to hair without any side effects.
Hair fall remedy – 
Hair fall is yet another common problem these days. Curd helps in strengthening roots which can prevent hair fall and breakage. Mix-
3 tablespoon of curd
1 tablespoon of honey and
lemon.
Apply this mask all over your hair. you can leave this mask for 30 minutes and wash it with your regular shampoo. Repeat the process in a few days to prevent hair fall.
Bonus Curd Home remedies for Healthy Hair
First Remedy-
Apply curd on the hair roots and ends for 5-10 minutes and then wash off. Now shampoo your hair. The result will be extremely shining and bright hair. The curd will also provide the necessary supplements to hair and scalp.
Second remedy-
To keep your hair healthy and hydrated, the curd is the best ingredient to give nourish your hair naturally. Take-
1 tablespoon of olive oil,
3-4 tablespoon of curd and
half tablespoon of apple cider vinegar.
Mix all the ingredients. Apply this mask on your hair, avoid roots and scalp. Leave it for 30- 35 minutes and then wash your hair with regular shampoo and lukewarm water. This remedy will keep your hair hydrated and silky.
Regular use of the above recipes would turn your dry, dull, frizzy hair into beautiful, shining, and problem-free hair.
FAQs related to Curd Home Remedies
If I will apply curd on my hair, will they turn white?
Excessive usage of curd may cause hairs white because of the high content of lactic acid. That is why, is it recommended to use any curd on the hair once a week.
Can I apply curd on my oiled hair?
Yes, you can curd nourishes your hair and scalp. You can even mix oil with curd or you can apply curd on oiled hairs.
Does curd help in growing new hair?
Yes, curd has Biotin (Vitamin B-7) which is very important for hair growth. It also includes zinc which also beneficial for hair growth.
Any side effects of curd on my hair?
For the people who are allergic to milk products may have side effects. Otherwise, it is the best natural ingredient to use for hair.
Is shampoo necessary after applying curd?
If you are only applying curd then you can wash your hair with water only. However, if you are applying it as a mask or pack along with other ingredients then shampoo is advisable.
Related Post:
Source –
https://www.femina.in/beauty/hair/benefits-of-curd-for-hair-120891.html
https://www.healthline.com/health/curd-for-hair