Aloe vera is a wonderful succulent that is primarily used in natural remedies because of its beauty-boosting properties. Not only it helps relieve sunburns and treat dry skin but also moisturizes and nourishes the dermis. You can make magical hair masks using aloe vera to have soft, shiny hair and an equally healthy scalp. Prepare these wonderful aloe vera gel masks for fabulous hair growth.
Aloe Vera Gel Masks for Hair Growth
The fleshy leaves of aloe vera contain a gel-like substance that has medicinal properties and can promote healthy hair. Further, the antioxidants and nourishing vitamins in the plant account for the anti-inflammatory properties and soothing, nourishing, protective benefits for hair and skin.
The fastest and easiest method of applying aloe vera is by extracting the gel and putting it directly into your hair and scalp. In case you do not have an aloe vera plant, you can use the pharmacy-grade gel as well. To amplify the benefits, you can combine aloe vera with other substances to prepare effective aloe vera gel masks for healthy hair.
Different Methods of Using Aloe Vera for Hair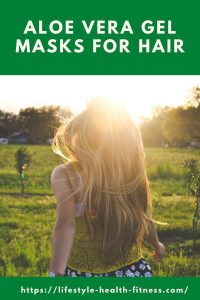 Aloe vera gel masks provide a leave-in treatment that can offer several benefits to your hair and scalp. They promote intense healing of your damaged hair. You can combine aloe vera with different ingredients from your kitchen cabinet to prepare effective hair masks.
Aloe vera gel and ginger juice
Mix a half cup aloe vera gel with ¼th cup of juice from freshly grated ginger. Blend and combine the ingredients well. Transfer to a spray bottle and apply on the scalp. Leave overnight and wash off the next morning for a refreshing aromatic scalp and healthy hair.
   Related post- Amazing Health Benefits of Aloe Vera 
Coconut oil and aloe vera gel
Mix 2 tablespoons aloe vera gel with 1 tablespoon of coconut oil. Blend them into a smooth paste. Apply the mixture on your hair and scalp with your fingertips. Leave the mask for 30 minutes to an hour. Wash your hair and rinse off the mask. Use once a week to boost hair health.
Aloe vera gel with vinegar
Combine 4 tablespoons of aloe vera gel with 2 tablespoons of apple cider vinegar. Blend them together to make a smooth paste. You can also add a tablespoon of honey for an additional smoothening effect.
The antibacterial properties of vinegar keep bacteria at bay and maintain a balanced pH level. Apply the paste on your hair by gently messaging your scalp. Leave for 3-4 hours. Wash as usual for amazing results.
Lavender oil and aloe vera 
Lavender has antimicrobial properties that prevent bacteria and stimulate hair growth. To prepare the hair mask, add 15 drops of lavender essential oil to a half cup aloe vera gel. Apply to your hair length-wise. Gently massage your scalp and wash off after some time. Use regularly for better results.
Aloe vera with castor oil
Castor oil reduces hair damage, hair loss, split ends and adds volume to your hair. It adds luster and naturally conditions your hair.
To prepare a hair mask, add 2 tablespoons of castor oil to a cup of freshly extracted aloe vera gel. Add a pinch of fenugreek powder and blend smooth. Apply on your scalp. Cover your hair from roots to tips. Leave overnight and wash your hair the next day using a mild shampoo.
Mix 2 tablespoons aloe vera gel with an equal amount of honey. Add a tablespoon of yogurt. Mix the ingredients well and apply them on your scalp and hair from roots to tips.
Gently massage your scalp and leave the mask on for 30 minutes. Wash with water and use a mild shampoo for silky soft hair. Repeat at least twice a week for better results.
 Related post- Hair Care Benefits of Castor Oil
Regular use of these aloe vera gel masks will:
Strengthen and condition your hair naturally
Promote hair growth
Reduce frizz
Lock in moisture
Relieve dandruff
Smooth natural curls
So, if you are considering making DIY hair masks to nourish your hair, try these aloe vera gel masks for magical long-lasting results.
References-
https://www.indiatoday.in/information/story/how-to-use-aloe-vera-gel-for-hair-growth-1732987-2020-10-19
https://www.healthline.com/health/aloe-vera-hair-mask#risks