Cucumber is one of the low calories vegetables and belongs to the gourd family which includes gourds, melons, and squashes. It is one of the oldest and 4th most cultivated vegetables, believed to be originated from northern India. Also, it does not contain saturated fat or cholesterol. Its peel is a good source of dietary fiber that helps reduce constipation and offers protection against colon cancer by eliminating toxins from the guts. Interestingly, it is beneficial for the skin, joints, liver, and kidneys. Cucumber is referred to as a superfood that has an array of nutrients. Similarly, cucumber juice is considered extremely beneficial. Check out various benefits and uses of cucumber, along with cucumber juice recipes!!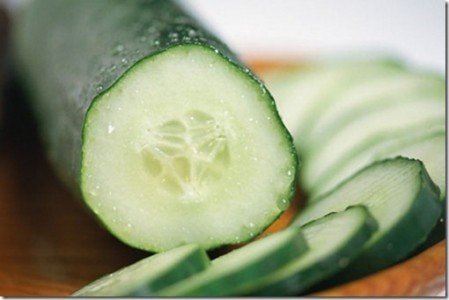 Health benefits of cucumber
1. Cucumber helps in keeping the body hydrated and regulating the body temperature as it contains about 95% water. It also helps in flushing out the toxins from the body.
2. Cucumber is rich in vitamin A, B1, B6, C, and D, calcium, magnesium, and potassium. It fulfills most of the vitamin needs of the body in a day. Cucumber and carrot juice can relieve gout and arthritis pain by lowering uric acid in the body.
3. Cucumber is used for skin tightening, reducing the puffiness of eyes, and also resolving many skin issues. A facial mask that contains cucumber helps in tightening the skin. Putting the slices of this fruit on the eyes for 10-15 minutes will help in reducing the puffiness around the eyes and soothe the area.
It brings down the water retention rate which in turn diminishes the puffiness under the eyes. Besides, the skin of this fruit can be used for reducing skin irritation and to give relief to the skin from sunburn. You can also use it for preparing homemade facial masks and for many more skincare recipes.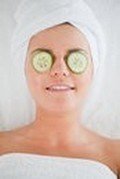 4. Cucumber can help in removing unwanted cellulite. Try rubbing a slice or two of cucumber along the problem area for a few minutes, the phytochemicals in this vegetable cause the collagen in your skin to tighten, firming up the outer layer and reducing the visibility of cellulite. Surprisingly, eating of this draws out the excess fluids and tightens the collagen resulting in the reduction of cellulite.
5. Cucumber juice works effectively for regulating blood pressure as it contains lots of potassium, magnesium, and fiber. It is helpful for treating both high and low blood pressure. Moreover, the juice is found to be useful in diabetes as it contains a hormone that is needed by the cells of the pancreas for producing insulin.
6. Taking fresh juice from this vegetable empty stomach in the morning regularly strengthens the immune system helps in curing digestive disorders like acidity, heartburns, gastritis. The high water content and fiber helps in flushing out the toxins from the digestive system and hence aid digestion. Eating it regularly may help in curing chronic constipation.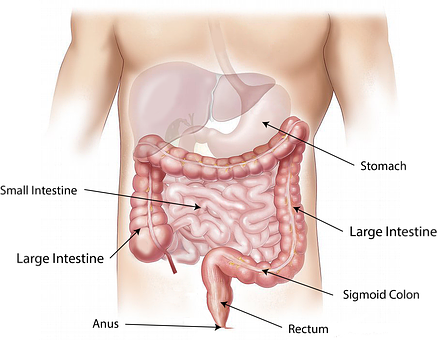 7. It is an excellent source of silica that helps in promoting joint health by strengthening connective tissues.
8. Moreover, eat a few cucumber slices to avoid a hangover and headache. It contains sugar, vitamin B, and electrolytes to replenish essential nutrients of the body keeps everything in equilibrium to avoid both a hangover and headache.
9. Take a slice of a cucumber and press it to the roof of your mouth with your tongue for 30 seconds to eliminate bad breath.
10. Also, cucumber juice is also beneficial for teeth and gum problems, especially in cases of pyorrhea.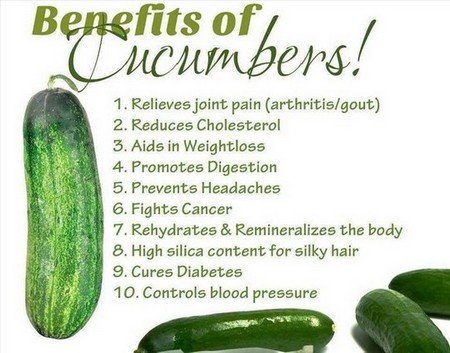 11.  Cut an entire cucumber and place it in boiling water, the chemicals and nutrients from the cucumber will react with boiling water and be released in the steam. This steam if taken by the new mothers and college students during final exams will reduce stress.
12.  The high silica content of cucumber also helps to prevent splitting and spoiling of nails of the fingers and toes.
13. Regular intake of cucumber juice mixed with the juices of carrot, lettuce, or spinach helps in promoting healthy hair growth.
14. Cucumber dice with apple cider vinegar, oregano, and salt make a quick, electrolyte, and enzyme-rich snack to boost energy level.
Other uses of cucumber
1. If you do not have the time to polish your shoes, rub a freshly cut cucumber over the shoe, its chemicals will provide quick shine to your shoes.
2. Take a slice of a cucumber and rub it on the surface of stainless steel sink or any vessel that you want to clean, It will not only remove the years-old tarnish but also bring back the shine. Moreover, it will not harm your fingers or fingernails.
3. Also, if your bathroom mirror gets fog after the shower, rub a cucumber slice to eliminate the fog and provide a soothing and spa-like fragrance.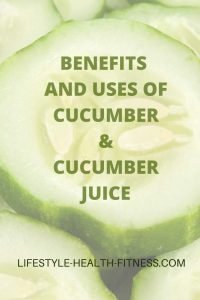 4. To erase pen writing use the skin of cucumber to erase it. It will also work on crayons and markers to erase from the walls if kids have used to decorate the walls.
5. Place a few slices of cucumber in a small pie tin in your garden, your garden will be free from grubs, slugs, and pests throughout the season. The chemicals in the cucumber react with the aluminum to give an odd scent undetectable to humans but drive garden pests crazy and make them flee the area.
Methods to prepare cucumber juice
Cucumber juice is a vigorous and versatile drink. People include this cool drink to improve their skin quality, lower blood pressure, and much more. Here are two recipes for cucumber juice.
Simple Cucumber juice
Required: 3 medium-size cucumbers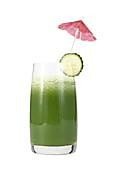 Peel the cucumbers properly and chop them. Then, blend the cucumber pieces with medium or high speed until it is smooth. After placing a mesh strainer over a large bowl, place cheesecloth inside the strainer. Slowly, pour the blended cucumber through the strainer and stir the puree with a metal spoon or rubber spatula. Now, pour the juice into a glass, and serve.
Sweetened cucumber juice
Required:
1 medium cucumber,
2 cups water,
Sugar  2 spoons
2 tablespoon honey,
Salt as per taste
After peeling, slicing, and chopping, grate the cucumber. Then add water and sugar into a pot to bring the same to a boil on medium flame. Stir regularly and when the water becomes thick, add grated cucumber to it. After the cucumber mixes with water thoroughly, remove the pot and let the mixture cool down.
Blend the cucumber mixture with honey added to it. Now, spread the cheesecloth inside the bowl, and pour the pureed cucumber. Squeeze out the pureed cucumber from the cheesecloth. Add salt to add taste. Serve it with ice.
FAQs on cucumber
Are cucumbers rich in vitamins and nutrients?
Yes, cucumbers are high in vitamins and nutrients. Cucumber contains phosphorus, calcium, potassium. Additionally, vitamin A, Vitamin C is found in cucumber.
Are cucumbers good for skin health?
Yes, the nutrients present in cucumber eliminate the dead cell from your skin and brighten your skin.
Can you eat the skin of cucumbers?
Many people remain unsure of the fact that it is a healthy choice. But the fact is that the skin of the cucumber contains nutrients and vitamins that make it the healthiest choice.
Precaution: If you are allergic to cucumber or have been advised by your doctor not to use any vegetable due to any health issue then you should not use it without your medical professional advice.