Watermelons are 92 % water which is drenched with nutrients and amazing healthy properties. This red-colored juicy fruit is loaded with a good amount of Vitamins A, B6, and C also with amino acids and antioxidants. It is considered a juicy summer snack that is fat- free. Each nutrient of watermelon is beneficial for the body to function normally. Antioxidants help to prevent cancer and Amino acids are a good source of protein. The benefits of watermelon for skin and hair play a vital role as it has a high amount of water, which hydrates the skin from within. Moreover, the fruit also contains Lycopene which is a nutrient with antioxidant properties, this nutrient helps in lowering blood pressure and cholesterol levels. All these nutrients of watermelon are a great contributor to have healthy skin and hair.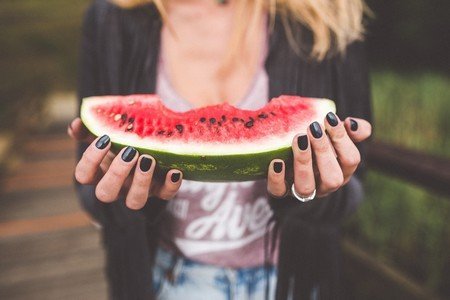 Amazing benefits of Watermelon for skin and hair
Watermelon for skin and hair is essential because it helps the skin to revitalize, repair sunburn, and damage. As it has properties to wash all toxins away from the body, this process helps the skin to feel fresh and glowing. Eating watermelon will increase blood circulation in the scalp, which boosts hair growth and promote healthy hair.
Further benefits of watermelon for hair and skincare are:
Prevents aging
There are so many problems related to the skin like wrinkles, dark patches, and spots, the watermelon keeps the body hydrated and has lots of nutrients like Vitamin A, C, and B6 which helps in preventing all these signs of aging.
Work wonderfully as a toner
Toner helps to clean the pores of the skin and watermelon helps to open those pores which result in having clear and glowing skin.
Prevents hair loss
Watermelon helps in boosting blood circulation in the scalp which shifts oxygen to hair follicles, which helps in treating hair loss and promotes hair growth.
Promotes new skin cells
Nutrients promote and repair new skin cells, which is beneficial to have a healthy and soft skin.
Related post- Health Benefits of Watermelon Seeds
Homemade watermelon recipes for skin
Homemade recipes are always good for the skin because they consist of all-natural things with no chemicals. As watermelon has more water nutrients, all the recipes listed below can add value to the skin. Try these amazing recipes which help the skin to rejuvenate and feel good.
Make a watermelon toner – Take half a bowl of watermelon cubes, blend it along with 6-7 mint leaves and strain it. Apply it on the face with a dab of cotton 2-3 times a day after face wash.
Apply Magical face pack – Take one cup of watermelon cubes, one banana, and 1 teaspoon honey. Mash it until a thick paste is formed. Leave this pack for about 10-15 minutes on the face and wash with cold water.
Wash away dead skin – Take a half bowl of watermelon, remove the seeds. Mash it with the help of a fork, add one teaspoon of honey and yogurt. Apply this mask on the face for 10-15 minutes and then wash with cold water.
Homemade watermelon recipes for Hair
Due to weather conditions, hair problems are so common these days. People are dealing with hair loss, breaking, and less growth. Using chemicals in such a situation can be harmful to weak hair. Thankfully, homemade recipes are harmless and are full of natural ingredients.
Say bye to dry scalp
Dry scalp leads to many problems like dandruff and hair breakage, which can weaken hair also. To treat dry scalp, take one cup of watermelon juice, and rinse hair with it after shampoo and conditioner. As watermelon has nutrients to hydrate skin, similarly it will help the dry scalp to be hydrated and moisturized. Regular use of watermelon will result in soft and silky hair.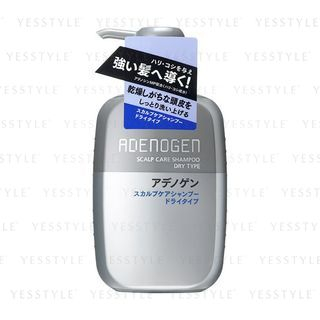 Shiseido – Adenogen Scalp Care Shampoo Dry Type 400ml
Say Hi to new hair
Take a bowl full of watermelon, remove seeds and mash it with a fork. Add 1 teaspoon of mayonnaise. Mix it to form a paste. Apply this mask especially on roots and then on the length. Leave it for 15 minutes and then wash hair with a mild shampoo.
No more thin hair
Take 2 tablespoons of watermelon juice and mix it with one tablespoon of olive oil. Apply this mixture on hair for 30 minutes and wash with regular shampoo. Repeat this once a week for the best results.
Related post-
Treat Hair Problems with Curd Home Remedies 
Sources – https://www.faithinnature.co.uk/article/7-benefits-of-watermelon-for-hair-skin.aspx
https://swirlster.ndtv.com/beauty/3-refreshing-ways-to-use-watermelon-for-beautiful-skin-1874583
https://www.beautifulhameshablog.com/5-different-ways-use-watermelon-skin-hair/