Glowing chubby cheeks attract everybody. The highlighting feature of a woman's face is her cheeks. If the skin of the cheeks is clear and soft, the face will lit up. But on the other hand, the dull looking and acne-prone skin of cheeks is a big turn-off. It is not a great deal to get beautiful and soft cheeks. All you need is the right kind of cheeks-care at the right time.
Important tips for attractive cheeks
Soft cheeks
Lack of moisture makes the skin dry and dull. Therefore, the skin needs to be nourished and moisturized in a proper manner. Never use harsh soaps for the face. Use a good face wash or cleanser to clean the face. After wash or bath, apply moisturizer on the cheeks to hydrate them. It is necessary to massage a little in circular movements so that the lotion or cream gets absorbed under the skin. This has to be done twice a day. And, please make sure whatever product you use is of your skin type. Or use a few drops of olive oil and massage.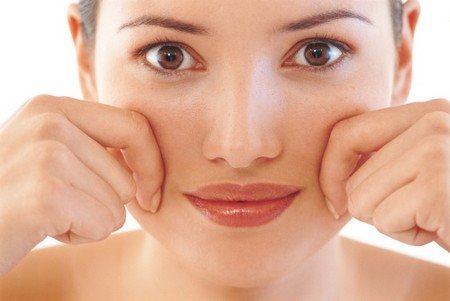 You can also apply a mixture of glycerin and rose water overnight to provide extra nourishment. Especially in cold temperatures, it is a good way to ward off dry skin.
Bright cheeks
The day-to-day stress and exposure to sun and pollution make cheeks dull. Use a good sunscreen to get protection from sun rays. It will prevent the appearance of patchy or tanned skin on the cheeks. Secondly, use a scrub gently to exfoliate the skin. This will remove the dead skin layer and impurities from the skin. Alternatively, use salt for exfoliation and see the benefits yourself.

Pure Minerals Chateau Cheeks Cream Blush – $18.00
from: BeautyStoreDepot.com
For bright cheeks use milk cream, honey, or yogurt in face packs. This will make the cheeks softer and brighter. The use of lemon as a skin cleanser is a good option as it will naturally lighten the skin tone. Also, the use of seasonal fruits in the face mask or as a face cleanser is again beneficial for the skin.
Clear cheeks
Sometimes, the skin of the cheeks is prone to acne. Do not pinch or touch pimples on your cheeks. This will make the skin worse. In case of severe acne, pigmentation or any other skin disease use some topical cream or treatment after the advice of a qualified doctor.
To keep blackheads or whiteheads away, daily wash it twice so that dirt and oil do not accumulate on the skin. As said before, exfoliate the face once or twice a week to make the skin clear. To get rid of acne and acne marks, apply the paste of sandalwood and rosewater, and get clear bright skin. This recipe is also helpful to soothe the sunburn problem.
Healthy cheeks
Healthy cheeks reflect one's inner health. Maintain a healthy lifestyle and complete diet schedule so as to make the skin beautiful. Drink water at least 2 liters to remove toxins from the body. It will take care of skin problems if any. And, also eat leafy vegetables and lots of seasonal fruits to get a natural glow on the skin.
Best foods for beautiful and glowing cheeks 
Carrots:
They are rich in vitamin A, beta-carotene, and anti-oxidants. Carrots prevent the production of dead skin cells on your skin thus giving you soft and glowing cheeks.
Turmeric:
This age-old medicinal ingredient and works wonders for your skin. Turmeric has anti-inflammatory properties and aids in fighting free-radicals. It helps to improve skin tone, remove dead cells, lighten dark spots/scars, and promote clear glowing skin.
Papaya:
Apart from being rich in vitamin C papaya contains an enzyme called papain which helps to clear blemishes and clean clogged pores.
Eggs:
Egg yolk has a beauty vitamin called biotin which guards your skin against rashes, acne, and dryness and ensures proper cell function. Whereas, regular application of egg white on skin gives you shiny and glowing skin.
Yellow peppers:
They are rich in vitamin c and which is a very important component of the formation of muscles and skin tissues. It helps to control the growth of wrinkles on the skin and reduces signs of skin aging.
Avocado:
This fruit has monounsaturated fatty acids which deeply hydrate your skin. Moreover, it protects your skin from sun damage and premature aging.
Coconut water:
It has potassium which relaxes your skin muscles, replenishes, rehydrates it, and makes it soft and glowing.
Blueberries:
They are rich in anti-oxidants and which help to treat skin cell damage. Blueberries also have anti-inflammatory properties that fight free radicals and alleviate various skin issues.
Mushrooms:
These fungus-based vegetables have vitamin B12 that gives you healthy and glowing skin by repairing the damaged skin tissues.
Flax seeds:
Apart from being the best food for PCOD/PCOS women, it is also a great food for glowing and clear skin. It is rich in omega-3 fatty acid which erases the fine lines and dark spots on your skin. 
 Home remedies for attractive and soft cheeks
 1. Coconut oil:
It nourishes your skin and nourishes the moisture making your cheeks soft. Moreover, the phenolic compound in coconut oil promotes glowing skin.
Ingredients
Method
Warm the coconut oil slightly and apply it on your cheeks and all over the face (if required)
Massage the oil in a circular motion with your fingertips for a few minutes and leave it overnight.
Repeat this process at least twice a week for better results.
2. Papaya and fuller's earth:
The papain in papaya helps in the removal of dead skin cells, gives your skin a younger-looking radiant glow, and also helps in cleaning the dirt. Moreover, the fuller's earth makes the skin soft by absorbing excess oil from the skin while honey acts as a natural moisturizer.
Ingredients
1tsp of fuller's earth
2 tbsp. ripe papaya paste
Honey 1tsp
            Method
Mix all the ingredients in the above-mentioned quantity and make a smooth paste.
Apply this paste all over your face and leave it untouched for 20 minutes.
Rinse with cool water and pat dry.
Do it once a week.
3. Olive oil and baking soda:
Baking soda has skin exfoliating properties that help in dead skin removal while olive oil and honey soften your skin and gives it's a radiant glow.
Ingredients
1tsp extra virgin olive oil
1tsp baking soda
Honey 1tsp
             Method
Take a small bowl, mix all the ingredients, and make a lump-free paste.
Damp your face and apply it all over your face in a circular motion and leave for 10 minutes.
Rinse with cool water and pat dry.
Moisturize with your regular moisturizer cream.
Apply this pack once a week.
4. Banana and milk:
The combination of these two ingredients is rich in potassium and several vitamins like vitamin A, B, C, E. It also helps in lightening blemishes and getting soft and glowing skin.
Ingredients
2tsp milk
1 fully ripe banana
1-2 ice cubes
            Method
Take a bowl, add milk into it and mash the whole banana into it.
Apply this mixture on the whole face and rinse after 15 minutes with normal water.
Now, take the ice cube and rub it all over your face.
5. Orange peel and rose water:
A combination of orange peel and rose water help to clear acne, get naturally glowing skin, and refresh the skin from within.
Ingredients
2tsp rose water
Few pieces of fresh/dried orange peel
             Method
In a grinder, make a smooth paste of orange peel and rose water.
Apply it on your face and rinse with cool water after 15 minutes.
Repeat it 2-3 times a week.
FAQ's related to Attractive and Soft Cheeks
1. What are the exercises for glowing cheeks?
Experts suggest practicing exercises such as headstands, fish pose, Pranayama, and other breathing exercises for glowing cheeks and skin. Cheek exercises are a good way to keep your cheeks healthy. Fill air in your cheeks for some time and then release. Repeat this exercise 10 to 15 times. The cheeks would appear fuller and young. Besides, another exercise is to laugh a lot. That will keep away the stress from your lovely face and make it even more beautiful.
2. What juices should I drink for glowing cheeks?
Healthy juices such as carrot and beetroot juice, cucumber juice, spinach juice, Aloe Vera juice, papaya juice, lemon, and ginger juice, etc., promote clear and glowing skin.
3. Does drinking hot water with lemon and honey in the morning help in getting clear glowing skin?
Drinking hot water in the morning flushes out all the toxins out of the body. While the vitamins and antioxidants in lemon and honey help in getting a natural skin glow.
4. How do I get instantly glowing cheeks?
A combination of lemon and honey is known best for giving an instant glow to your face. All you need to do is mix 1tsp lemon juice with 1tsp honey, mix well and apply it on your face. Let it rest for 15 minutes and rinse with cold water.