The harsh sun rays and time spent outdoors for shopping, working, and having fun can lead to sun tanning. Usually, a tan occurs due to skin being exposed directly to the harsh rays of the sun. This can also lead to dryness of skin and rough patches along with discoloration.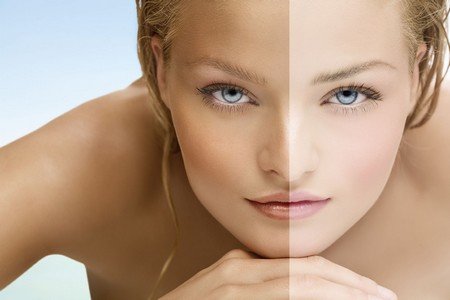 Here are some effective tips to get rid of the skin tanning with the help of home remedies:
Sunscreen Lotion
People tend to avoid sunscreen lotions in the days of summer as they feel that sunscreen leads to extra sweating. Apply a good amount of sunscreen lotion with more than 30 SPF, at least before 20 minutes of stepping out.

iS Clinical Eclipse SPF 50+ (Translucent)
from: BeautyStoreDepot.com
Drink 2.5-3 liters of Water in a Day
If you have a suntan, you need to start consuming more water since the skin has already loosened its water when it was exposed to sunlight. To keep the skin hydrated, drink plenty of water in a day.
Tomato
If you have suffered suntan on any part of your body and face, then take a slice of tomato and massage it over the part where the tan has happened. It will give you a soothing effect on the area where there is a suntan.
Aloe Vera
Apply a rich amount of a good Aloe Vera cream on the affected suntan area. Aloe creams act as one of the best soothing agents for the skin and reduce the effect of suntan.
Turmeric Powder and Lime Juice
Form a thick paste by adding turmeric powder and lime. Apply it to the areas of suntans and leave for half an hour, until it gets dry. After this, watch your face with cold water and pat dry. Do this three times a week, as this will light the skin color and remove the tan.
Potatoes
Cut and place slices of raw potatoes on the tanned area to remove it. This is not only effective in removing tan but also very effective in lightening your skin tone.
Almonds
You need to soak almonds overnight and grind them into a very fine paste the next morning. Add an equal quantity of milk cream to the paste and apply it on the affected area to make your skin look better and fair.
Yogurt
Yogurt is known to be very effective in minimizing the effects of a suntan. You need to take a cup of yogurt and add the juice of cucumber and tomato to it. After that, add 2 tablespoons of gram flour and make a taste. Apply it on the face and let it dry for 30 minutes.
Pineapple and Honey
Make a facemask using pineapple and honey. You need to mix the 2-tablespoon pulp with one tablespoon of honey and apply it on the face. After that, wait for 3-5 minutes and wash thoroughly with water.
Milk Cream and Saffron
Saffron helps in brightening, tan removal, and toning of the skin. Soak a few strands of saffron in 2 tablespoons of milk cream overnight. Blend it with fingers and apply on the face. Let it dry for 20 minutes and rinse off with water.
Getting a tan is faster than removing it. However, with home remedies, you can get rid of skin tanning with natural care.
Related post: