There is a common notion among women that hooded eyes are not good looking and even makeup cannot change its appearance. Well, this is not correct because while many beautiful celebrities with whom you would be familiar have hooded eye shape and for makeup, there are some tips that can really beautify your eyes. Though the makeup for hooded eyes might not be easy, yet there are ways, which if implemented correctly, can do the trick for you. The first thing here is to define what actually hooded eye shape is so that you can be sure of your eye shape.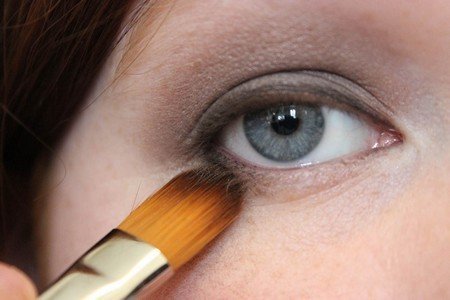 Hooded eyes are those in which the eyelids are either partially or in some cases fully covered by the skin, which is under the brow when the eyes are open. Here are some steps that you should take while applying makeup to your hooded eye shape:
Step 1:
The first step that you need to take to apply the best makeup is to maximize your eye space. There is a common misconception that having hooded eyes means less space as there are ways through which you can increase it. Firstly, you need to pluck your
eyebrows
in a way that it gets sculpted to your face. This way your eye space increases and thus increases your opportunities in experimenting with makeup.
Step 2:
The next step is to realize the usefulness of your lower lids, as they are very crucial when it comes to hooded eyes. You need to put some eyeliner to your lower lids along with some amount of eye shadow. This way your eyes not only get highlighted but also dimension is added to it.
Step 3:
The next step in this process is a fundamental one, which is, if you are having hooded eyes, instead of dragging the features downwards you need to move it upwards. Thus, when applying eye shadow, powder, and blush, make sure that your brush works in the form of upward strokes. This way your face is brightened and you look a lot better.
Step 4:
When it comes to highlighter and eye shadow, having hooded eyes shouldn't confine you to some particular colors or textures. You should experiment with them and you should use eye shadows of all those shade which give a lift to your eyes instead of dragging downwards.
Step 5:
Defining both, your lower and upper lids is very important and no matter what you are using, liner or eye shadow, ensures that both these lids are defined.
Step 6:
Ladies, now you are going to know the biggest trick that can help you ditch your hooded eyes, and change their appearance to be less hooded. Well, the trick is the perfect use of highlighter. Proper use of a little amount of white shadow in the corner region of your eyes has a dual effect. It not only brightens your eyes but makes them appear more alert and awake.
Step 7:
The final step is quite obvious, blending. When you are working with different shades and colors, you need to blend in everything with your overall makeup so that the colors look beautiful on you.