Eyes are a beautiful part of the face of any woman and they play a great role in portraying the personality of the woman. The most crucial thing about taking good care of your eyes and also about beautifying them with makeup is to know what is the exact shape of your eye.
If your eye has, at the outer corners, a downward angle, then you surely have a downturned eye shape. Well, many beautiful celebrities have the same shape of eyes, so you just need to know the exact
makeup
tricks to help your eyes portray you in the best light possible.
Makeup Tricks for Downturned Eye Shape: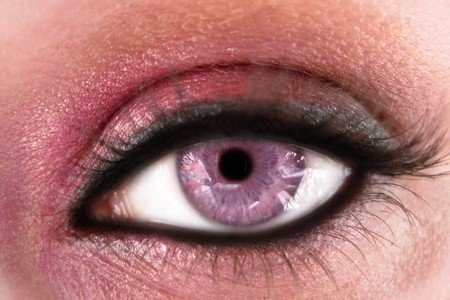 Foundation:
The important part here is to make the area under your area look alive. The application of a little amount of foundation, which is of skin tone, can do the trick for you here. All you need to focus on is to cover any kind of circle that might be there in the under-eye area and do not forget to blend the foundation.
Eyeliner for downturned Eye shape:
The secret to turning your downturned eye shape in an upside manner lies in, eyeliner. Eyeliner serves you in a two-pronged way, while it makes your lashes full and lush; it also assists in opening your eyes. You need to start your makeup with some eye primer so that your makeup stays for a longer period on your time. Now, using either pencil eyeliner or a powder one, you need to apply it as close to your upper lashes as possible. You also do not need to shy away from heavy lining because this
liner
is going to give your eyes a perked up look.
Eye Shadow:
Powder eye shadow can serve the purpose of the softening of eyeliner. As per your eye shape, the perfect way of application is to apply, on your lids a neutral taupe shade and in the crease of the eye, you need to apply the shade of warm brown. This way you add definition to your eyes and add an element of lightness to it.
Mascara:
One of the best ways of boosting downturned eyes is curled lashes. To attain this, you need to place your lashes in a curler for a period of about ten seconds, to give them a lift. Once this is done, you need to apply two coats of brown or black mascara on your lashes. While applying the
mascara
,   use the brush in a way to prevent any sort of clumping. This way not only your lashes would look fuller but even your curls will make the eyes more open.
So these are the most suited makeup techniques for your downturned eyes, you just need to remember one thing. Keep in mind that makeup is like a two-way road, a slight mistake can also ruin everything, so you need to apply it with due care.
Related Post:
THE BEST MAKEUP TIPS FOR HEAVY-LIDDED EYE SHAPE