Following are the eleven Tips for Skincare in a natural way:
1. Before retiring to bed always cleanse your face with a suitable cleansing milk or homemade cleanser. It will remove all the dirt particles, excess oil, and makeup. Now moisturize and massage a little. Your skin can now breathe and rejuvenate while you take your beauty sleep.
2. You should make sure that you have washed your hands thoroughly and tied back your hair before cleansing your skin. When applying cleanser, use gentle sweeping upwards movements using your fingers to spread it up from the neck over the jawline and up to the forehead. Upward movement of your fingers will lift the hairs that cover the skin's surface and ensure the cleanser gets in to clean effectively. Use your first, middle, and ring fingers to massage the cleanser into your skin. Follow the flow of the lymph that helps to clear out and prevent any areas of congestion and promotes the flow of blood circulation to keep your skin healthy and glowing.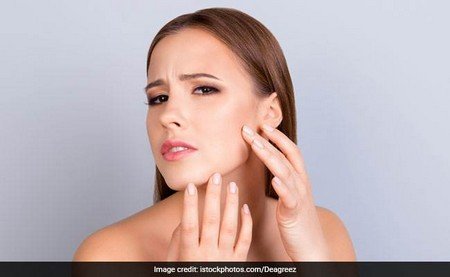 3. Whenever you cleanse your face with face wash or homemade cleanser, keep in mind to clean your skin at the back. Occasionally, you can scrub your back gently so that dead cells do not accumulate. Also, remember to apply sunscreen on the exposed skin areas before you go outside.
4. You should be avoiding toning in case your skin is extremely dry or your skin has the tendency for other serious skin problems. In the case of a burning sensation, the use of astringents should be discontinued. If your skin shows signs of irritation after applying toner or astringent, you should reduce the amount you are using or switch to milder toner or astringent. Always use homemade toner and do a patch test before using it.
5. For different parts of the body, there are different tools to exfoliate. Never use body exfoliate for facial skin. Over exfoliation can cause harm to the skin. While daily exfoliation is recommended for other body parts, the frequency of face exfoliation depends on the skin type. The dry skin must not be exfoliated more than thrice a week. The normal skin and combination skin needs exfoliation twice a week. However, oily skin should exfoliate only once a week. Homemade recipes are the best for exfoliation as these are prepared as per the type of your skin and all the ingredients are known to you.
6. The exfoliation process is incomplete without moisturizing of the skin. Therefore, after you have washed and wiped your skin, then apply a suitable moisturizer on the damp skin in order to lock in the good effects of the exfoliation. Moreover, the moisturizer closes the open pores of the skin and helps in the penetration of moisture into the skin. This is one of the important tips for skincare.
7. Moisturizing is not required for those with oily skin. While applying moisturizer, make sure to avoid direct contact with your eyes. Moisturizer should be used over the entire face and neck only when the toner completely dries. Moisturizers do not reverse sun damage but they may prevent further dryness of the skin. Homemade moisturizers should be prepared as per the type of your skin.
8. Soak your feet in warm water for a few minutes at night. Scrub a little if they are dirty and wipe. Now apply cold cream or Vaseline liberally and massage. Now please don't roam around with bare feet. Let your feet relax after a tiring.
9. A daily bath is extremely important. So what's new about it? Make it exciting and even more fulfilling. Sprinkle a few drops of rose-water in your bathtub and have a sweet-smelling bath. Furthermore, turn on your favorite music and indulge. Once in a while, try it and you will feel lighter and happier. The stress-free mind and body lead to happy and healthy skin.
10. If acne is the problem that is giving you sleepless nights, then you need not agonized anymore. You can lessen the time period if you live stress-free, happy, and have a nutritious diet. Avoid alcohol and smoking. Instead of blindly using any kind of chemical-based products or medication, try home remedies or herbal products for acne cure. This will surely help.
11. Oily skin is sometimes difficult to treat. And wrong habits can, even more, increase the problem. Curb that urge to indulge in oily and spicy food. It will pay. Switch to leafy vegetables and seasonal fruits. Include citrus fruits in your diet. And try homemade remedies for glowing nongreasy skin.
Those who believe in natural/homemade recipes and want to learn skincare regimen suitable as per the type of their skin and want to prepare homemade recipes for cleanser, toner, exfoliation, moisturizer, and face mask at home may get "Natural Skincare Guide-Homemade Recipes" and should follow tips for skincare given above.