They run towards you waving their tails to give you the warmest welcome. They cuddle around you and lick your face when you are sad and depressed. Not to forget, they gratify every pleasurable moment. They are, none other than your best pals – your pets. No one else can pamper you or give you an instant 'pick me up' like these lively furry friends of yours. Isn't it? So, celebrate this Valentine's Day with your pet to show you care.
Amazing ways to show your love to your furry friends on Valentine's Day
There is no limit to showering your love on your pets be it dog, cat, birds, etc. While you shower your love on family, these innocent pals also need that extra dose of attention and care, and Valentine's day is the perfect day for the same, isn't it?
Cook Something Special to Suit the Occasion
 Nothing says 'I love you' better than a delicious home-baked dessert. You can occasionally reward your pets with special home-cooked preparations. Replace the regular cookies and kibble with some homemade treat to relish your pets. You can find some healthy pet recipes online and cook something special right in your kitchen.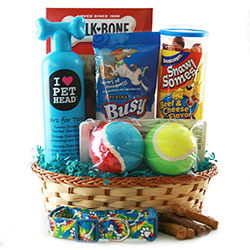 Happy Tails-Pet Gift Basket
Make sure of using pet-safe ingredients. For example, if your pet likes to eat meat, you can boil some for them as a treat or offer them a few bites of canned chicken. Alternatively, order a special gift basket to enjoy Valentine's Day with your pet! Hozzat!!
Walk Some Extra Miles to Make Them Happy
Interestingly, pets often love to frolic in their favorite parks. They enjoy roaming around, stopping here and there sniffing every nook and corner. Take your pets out to a well-liked spot to make them cheerful and give them a dose of fun. Or how about walking an extra mile when you take them out for a stroll.
Make a Cozy Blanket or Neck Swag for Your Pet
 Check if your pet needs a new pet collar or a cozy blanket to keep themselves warm this winter. How about adding a pretty charm or a new name tag to their collar? Make sure to keep the bedding, blanket, and toys of your pets clean. This practice reduces allergens and ensures a healthy environment around them.


Pet Dog Patterned Rain Coat
You should remember that your furry friends can be dirty, hairy, and stinky at times. Wash and freshen up their beddings to cheer them up.
Make an Appointment with The Vet to Update Their Medical Needs
 Make sure you take note of the medical needs of your pets. Valentine can be a great day to take them to their vets for checkups and vaccines to ensure their medical records are up to date.
Plan a Spa and Do Some Grooming of your Pet
Pamper your pets with an outstanding spa and special grooming. You can either do it yourself or contact nearby pet facilities or specialty salons. Else, you can also contact mobile grooming vans that provide a nice brush-through to your pets right at your doorstep.
Plan a Fantastic Photoshoot with your Adorable Pet


Pets Shell Shape Comb (E2) Green – One Size
You can make your home cozier with some amazing photographs of your furry friends. Many aspiring photographers would love to click some of your best shots with your pets at reasonable prices. So, cherish your beloved pets with fantastic pictures of your fun times together.
Pets always love the extra attention and occasional pampering and return the favor with more love. Therefore, why not, celebrate Valentine's Day with your pet with the above amazing ideas!!
Related post-