The health of human being starts deteriorating with age. This process is slow and gradual. Environmental pollution, harsh sunlight, and air conditioners speed up the aging process. In this aging process our metabolism slows down and circulation becomes sluggish and the skin does not get sufficient nutrients it needs to stay young and vibrant looking. With the age, due to the contraction of muscles and developments of irritability of rest lines, wrinkles develop in the skin. Skin is also damaged due to exposure to excessive ultraviolet rays of the sun.
Choosing an effective facial treatment:
Choosing an effective facial treatment for aging skin can be quite a challenge. With accurate information about the correct process of skincare, rejuvenating your skin becomes easier. An effective anti-aging facial skincare treatment will increase the moisture contents in the skin and will also lock the skin's own moisture, stimulate collagen production and strengthen the protection mechanism of the body to safeguard the skin from further damage. Facial care routine will not help only in the reduction of occurrences of blemishes and its break out but also improve the healing ability of the skin and make soft and younger-looking skin. A healthy diet is an important factor in your successful face care program. Face care needs persistence and regular programming to preserve the fresh look of youth.
A major goal in formulating a comprehensive skin rejuvenation plan is to select an effective combination of anti-aging facial treatments to incorporate into your overall regimen. Unwanted hair, on the face, demands removal immediately the growth is noticed. Make sure that your face care product matches your face skin type. Click here to get a facial skin rejuvenation plan.
Facial Scrub
We have already discussed cleansing, toning, and moisturizing of skin at face care. Here we will discuss facial scrub and face mask, the two most important parts of any anti-aging skincare program. The skin of the face is more delicate and requires special attention. Facial scrubs are used to remove the old dead cell of the skin and resurfacing new cells. To regain the same shine and youthful appearance of the skin, scrubbing (exfoliation) is a mandatory regime.
Recommended product: CosMedix Purity Detox Scrub
Facial treatment helps in removing and preventing blackheads and whiteheads and also will improve the skin renewal process and minimize the bad effects of sun rays, dirt, and dead cells on the skin. In the process, the blocked pores of the skin are opened allowing them to breathe. A new layer of skin then appears which is refreshing, healthier, and radiant. Many face scrub contains moisturizer if in case you're facial scrub does not include moisturizer, make sure to moisturize your skin after scrubbing.
Prepare facial scrubs at home:
1. Honey almond scrub
2. Anti-aging facial scrub recipe
Honey almond scrub: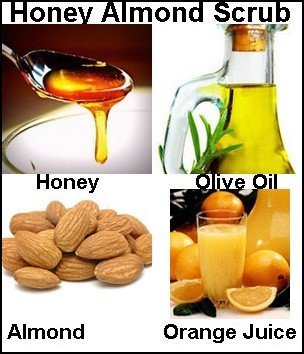 Mix well together with one tablespoon of honey, 2 tablespoons finely ground almonds, 3 tablespoons of fresh orange juice, and 2 teaspoon olive oil and massage into skin and rinse well with warm water. For more such recipes check out "Natural skincare guide"
Anti-aging facial scrub recipe:
Ingredients:
1. 2 tablespoons granulated sugar
2. 1/2 teaspoon finely ground coffee
3. Sprinkle of salt
4. 1 teaspoon (or so) of freshly squeezed lemon, orange, or lime.
Preparation
Mix well all the ingredients and stir briefly to moisten all ingredients. Use the scrub daily by massaging into the skin in a gentle upwards circular sweeping motion. Rinse the face well with warm water. Use your scrub once a day.
You may get more such facial home/ natural recipes at: "Natural skincare guide"
Get rid of dark spots:
Citrus fruits like oranges, lemons & limes are rich in Vitamin C and are also natural bleaching agent. However, lemon is considered one of the most effective home remedies for facial dark spots, especially for freckles & age spots. Simply apply some lemon juice directly on the spot with your hands/dab of cotton. The citric acid in the juice would work to bleach the spot and clarify your skin.
Recommended Product: PURAFEM Skin Brightening Dark Spot Melasma Fading Serum
Download Natural skincare guide and recipes book for cleanser, toner, moisturizer, scrubs, facemask, and sunscreen
Related Post:
Homemade Remedies to Get Rid of Dull Skin