To retain youthful face women resort to different methods. Nobody wants creases, wrinkles, and folds of skin on the face despite aging. Therefore, women try all sorts of things to maintain their youth and look.  Some recommend going for surgery and getting excess fats removed. Some others choose non-surgical methods for surgery.
Surgical method
This method involves surgery of the aging skin. The sagging skin and wrinkles on the face and neck are tightened. The excess fats under the skin are removed. However, all this process requires both prior and post-surgery precautions. The candidate has to lose weight and quit smoking.
There can be many more guidelines by the doctors depending on the individual case. The duration of a favorable result in the case of the surgical method of face-lift may vary from person to person. Post-operation there can be cases of numbness, pain, and nausea that may require time to go. On top of it, the results may or may not be as per expectations even after shelling out a huge amount.
Non-surgical Methods:
There are mainly four non-surgical face-lift methods which can be further defined in two categories as per techniques applied. In one category non-surgical facelift techniques include the laser facelift, the microcurrent facelift, and Therm-age.  The other non-surgical way advocates the use of natural methods and therapy like exercises, massage, and acupressure to get a face-lift.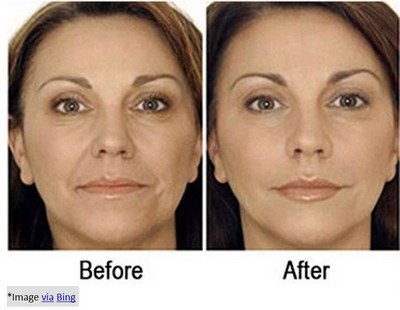 Comparison between different methods of non-surgical face-lift
1. Modern technological based on skin tightening methods
2. A natural method based on facial exercises, massage, and acupressure
Modern Technological Methods:
Laser Face-lift:
Using laser technology, doctors resurface and tighten the outer layers of the skin. While the procedure cannot remove excess skin, patients experience tightening of loose skin immediately, with fewer wrinkles in the treated area and a firmer, healthier-looking complexion. However, The non-surgical laser facelift does cause some minor discoloration, temporary reddening of the skin, a slight chance of scarring. There as also the possibility of brief lightening or darkening of the skin in treated areas.
Micro-current face-lift 
Also known as the Bio-Ultimate facelift is a non-surgical face-lift procedure. During a micro-current facelift, gentle electric currents are applied to the face, stimulating a natural cellular reaction. The effects of this stimulation are varied and have not been tested. Thin skin like eyelids, underarm respond better than the thick skin of the cheeks. It has not been considered a better option for face-lift.
Therm-age:
It is also a non-evasive facial rejuvenation technique in which plastic surgeons and dermatologists employ the use of heat to stimulate collagen growth in problem areas. Therm-age may leave swelling, blister, and redness in the treated area which may disappear after some time.
Natural Methods:
The natural method involves regular facial exercises and massage. Acupressure, which is a natural method, also helps in obtaining a facelift. Under this method, the fingertips move in a circular motion on certain pressure points that help in maintaining the freshness of the face. The regular use of these methods helps in evading sagging of skin, double chin, wrinkles, and baggy eyes. Facial exercises/yoga exercises are not only for mature people to achieve smooth, youthful, younger-looking skin. This Program is also for young people to maintain their youthful look.
Facial Exercises:
Facial exercises if done in a proper way will check the cause of the aging process by tightening the muscles and sagging skin. It will result in the lifting of dropped contours and firming the flabby skin by rebuilding atrophying muscle tissues without invasive surgery. However in non-surgical facelift, thrice a week program of facial exercises and/or acupressure will provide long-lasting results and that too at an economical cost.
This non-surgical face-lift program is the best and cheapest method in comparison with surgical as well as other non –surgical methods.
Face-lift without Surgery:
Wendy Wilken, Author of Face-lift without Surgery, is one of the foremost experts in age regression methodology and teaches how to use yoga facial exercises to avoid facelift surgery. The author also reveals little known secrets to anti-aging skincare in her facial exercises eBook "Facelift without Surgery". In this book combination of facial exercises, acupressure, and massage techniques has been explained to combat the effect of aging.
Wendy Wilken has compiled step by step instructions in his eBook " Face-lift without surgery" form to apply pressure in a certain direction on 20 acupressure points. These points are located in the face, neck, hands, and arms, to reverse the process of aging and cell degeneration.
Face exercises, massaging, and applying pressure will improve the overall circulation of blood in the body and the functioning of all the major organs. It will also tone the muscles and gives you radiant, glowing, wrinkle-free skin. With the use of acupressure, you will be able to perform your own non-surgical facelift that will take you only 20 minutes a day (one minute on each point). After the first 30 days, you can maintain it 2 to 3 times a week or as per the requirement to maintain the face-lift.
Acupressure Points
You will feel the difference within a few days and will make you look younger in one month. Each of the 20 anti-aging acupressure point locations is clearly demonstrated in the black and white photos in the face-lift without surgery. Each point has a narration that describes its location, motion required, benefit, oriental name, and another effect. You will achieve many benefits (some of them given below) by following the step by step guidance given in this eBook.
1. You will look younger; have fewer face lines and firmer skin tone.
2. Diminish those unsightly eye bags!
3. Lift and tighten cheeks
4. Lift flab under the chin
5. Smoother under eye creases
6. Eliminate crow's feet
7. Smoother lines on the forehead
8. You will feel and appear less stressed.
9. You can maintain your facelift for the rest of your life after regaining your looks!
10. You may have some relief to headaches, migraines, and tension headaches.
11. Certain internal organs may function better e.g. Kidneys, lungs, heart, intestines, liver.
Now you are aware of the advantages of exercises and acupressure over other surgical and non-surgical methods. Grab this opportunity "facelift without surgery" for younger-looking skin which comes with 60days money-back guarantee and bonuses worth $400. To retain youthful face women and for non-surgical facelift BUY NOW