A lot has been discussed and researched to find out whether there is any relation between obesity and depression but the discussion should first start with the basic knowledge about these conditions. Starting with depression, the person suffering will have a persistent sense of loss of interest, sadness, inadequacy, and hopelessness in this medical condition. The worst part about depression is that most of the people suffering from it are not even aware of it. In addition, some people avoid treatment even after knowing their condition just because they feel it be awkward or embarrassing.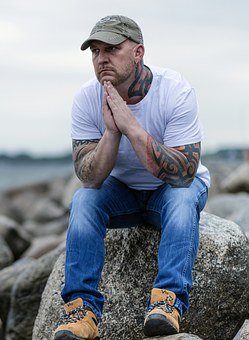 In the world of research, the relationship between obesity and depression is a two-way road because while some people argue that depressed people are at a higher risk of becoming obese. The reason behind this is said to be that the chemical imbalances in the brain that are induced by depression lead to obesity. Here the primary hormones involved are serotonin and cortisol. Cortisol is a hormone that enhances the appetite, stores fats and produces glucose in the body. It is secreted when the person is stressed. This means if someone is stressed out, he will have a constant secretion of cortisol in his blood leading to a strong urge to eat that would further lead to fat storage and eventually obesity.
Apart from this, if a person is depressed, he would be very less inclined towards maintaining good health or physique, in other words, he will not be much keen to look after his body and this is the reason he might take a step towards obesity. They tend to come up with negative thoughts about themselves and they overeat just to derive a sense of satisfaction. This has been found to be a major case in terms of women and people belonging to a higher status in society.
The other side of the road is the claim by many researchers that if a person is obese he has a strong chance of getting depressed. The reason behind this has been found that an obese person is subjected to stereotypes, bullying, and criticism, which lead them to poor self-esteem and courage. This type of social behavior that obese people are subjected to, leads them to isolate themselves socially eventually leading to depression. Here it will not be wrong to consider both these points as correct because one condition of the two easily prepares the way for the second one. Thus, the person the person suffering is at the risk of facing situations such as:
Poor exercise and diet.
Having problems in dealing with emotions, stress or boredom
Health issues such as diabetes, cancer, heart diseases, and sleep-related issues
Researchers have also found some biological links between obesity and depression. It has been found that the extra weight of an obese person causes additional load on the joints and bones of the person leading to more pain or injuries. This constant feeling of pain and lethargy can also lead the individual to feel depressed.