Glowing chubby cheeks attract everybody. The highlighting feature of a woman's face is her cheeks. If the skin of the cheeks is clear and soft, the face will lit up. But on the other hand, the dull looking and acne-prone skin of cheeks is a big turn-off. It is not a great deal to get beautiful and soft cheeks. All you need is the right kind of cheeks-care at the right time.
Soft cheeks
Lack of moisture makes the skin dry and dull. Therefore the skin needs to be nourished and moisturized in a proper manner. Never use harsh soaps for the face. Use a good face wash or cleanser to clean the face. After wash or bath, apply moisturizer on the cheeks to hydrate them. It is necessary to massage a little in circular movements so that the lotion or cream gets absorbed under the skin. This has to be done twice in a day. And please make sure whatever product you use is of your skin type. Or use a few drops of olive oil and massage.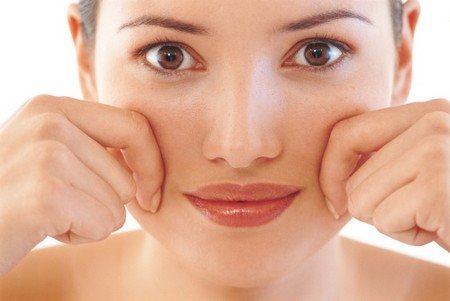 You can also apply a mixture of glycerin and rose water overnight to provide extra nourishment. Especially in cold temperatures, it is a good way to ward off dry skin.
Bright cheeks
The day to day stress and exposure to sun and pollution make cheeks dull. Use a good sunscreen to get protection from sun rays. It will prevent the appearance of patchy or tanned skin on the cheeks. Secondly, use a scrub gently to exfoliate the skin. This will remove the dead skin layer and impurities from the skin. Alternatively, use salt for exfoliation and see the benefits yourself.

Pure Minerals Chateau Cheeks Cream Blush – $18.00
from: BeautyStoreDepot.com
For bright cheeks use milk cream, honey or yogurt in faces packs. This will make the cheeks softer and brighter. Use of lemon as skin cleaner is a good option as it will naturally lighten the skin tone. The use of seasonal fruits in the face mask or as face cleanser is again beneficial for the skin.
Clear cheeks
Sometimes the skin of cheeks is prone to acne. Do not pinch or touch pimples on your cheeks. This will make the skin worse. In case of severe acne, pigmentation or any other skin disease use some topical cream or treatment after the advice of a qualified doctor.
To keep blackheads or whiteheads away, daily wash it twice so that dirt and oil do not accumulate on the skin. As said before, exfoliate the face once or twice a week to make the skin clear. To get rid of acne and acne marks, apply the paste of sandalwood and rosewater and get clear bright skin. This recipe is also helpful to soothe the sunburn problem.
Healthy cheeks
Healthy cheeks reflect one's inner health. Maintain a healthy lifestyle and complete diet schedule so as to make the skin beautiful. Drink water at least 2 liters to remove toxins from the body. It will take care of skin problems if any. And also eat leafy vegetables and lots of seasonal fruits to get a natural glow on the skin.
Cheek exercises are a good way to keep your cheeks healthy. Fill air in your cheeks for some time and then release. Repeat this exercise 10 to 15 times. The cheeks would appear fuller and young. Another exercise is to laugh a lot. That will keep away the stress from your lovely face and make it even more beautiful.