Just like fashion trends makeup trends also keeping changing with time. The most 'talked about' makeup trend today is the HD (Hi-definition) makeup! HD makeup covers all the uneven patches, dark circles, gives even skin coverage making it look just like natural Skin. Another feature of HD makeup is that it reflects light and is perfect for the camera.
What makes HD makeup perfect?
In order to get that perfect HD makeup look, a lot of high-end beauty products are used. The makeup artists use several brushes and blenders to get that flawless and radiating look which creates blur light after reflection. Moreover, the products do not give a sticky, heavy, or cake-like feel on the face, HD makeup products blend easily with the skin and feel feather-light.
This is because its product contains tiny particles of crystal/silicon base, mica, and quartz which reflects the light in the exact same way your natural skin does. HD foundations and powders are made with coating pigments which help in delivering special visual effects after application.
Unlike other makeup products, it gives light or medium coverage and sinks in the skin rather than just sitting on the skin. Coming to skin imperfections, the hi-definition makeup products evenly cover all the pores, dark spots, uneven skin tone, blemishes, etc., without making it look like layers.
Benefits of Hi-Definition Makeup
Gives a completely natural and flawless radiating look.
Skin flaws or excessive makeup are not detectable on camera.
Mostly has waterproof coverage.
Long-lasting and does not need a constant touch-up.
Blends well with the skin and is light weighted.
Suits all skin types.
Perfect for photographs.
Who can opt for HD makeup?
Well, anyone can go for this makeup! You can go for it on any of your special occasions. However, due to its light-diffusing properties people who face cameras most of the time like models, celebrities, anchors, etc., can go for it. In fact, HD makeup is on the top list for is Bollywood celebrities.
Also, makeup is just ideal for brides if you want to get those perfect wedding photos. To make a long story short, go for HD makeup whenever you want to stand out from the crowd.
   Related post- The Best Makeup for Your Hooded Eye Shape
How much does HD makeup cost?
Cost is something that may differ from one makeup artist to other. However, in India charges for one day, can start from Rs.15,000 and go up to Rs.50,000 depending upon the make-up artist, experience, products used, type of look required, etc.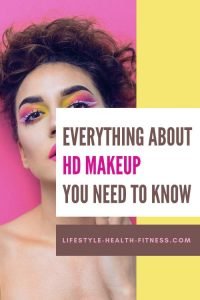 When Hi-Definition makeup doesn't work?
Even though HD makeup has a lot of benefits due to the following reasons this one may not work for you:
Dry skin: If your skin is too dry, the foundation and other makeup products will not blend with your skin properly giving you uneven skin coverage and will result in poor makeup.
Limited time: Right from the application of foundation to the blending of eye shadows, the makeup is very time-consuming. At times the makeup artist may use different shades of foundation in order to create that perfect light-diffusing look. Also, blush and eye-shadows are blended manually using traditional techniques which involves a lot of time and energy.
Unskilled makeup artist: It is always advisable to entrust a professional makeup artist only. The amateur artist often lacks the key skills of blending, selection of right foundation shade, blending, etc. However, if you still choose to go with an amateur makeup artist you will never get the desired outcome.
Use of duplicate products: Often replicas of branded beauty products are available in the market and many makeup artists fall prey to it. At times, some unprofessional makeup artists willing to buy these products to scale up their profits. Whatever the case is, duplicate makeup products used for HD makeup, will spoil the show for sure!
  Related post- The benefits of Face Serum for Dry Skin and How to Choose one?
HD makeup vs Airbrush makeup
Many women still think airbrush makeup and both makeups are the same but…it's NOT!!!
In airbrush makeup foundation is applied with the help of an air gun. A special liquid foundation is filled in the air gun and applied slowly in layers. Similarly, other makeup products such as blush, eyebrow filler, etc., are applied using the same technique.
Airbrush makeup is also lightweight and gives complete coverage. However, if it is not done properly, it may create a makeup blunder and completely spoil the look. Besides, airbrush makeup is more long-lasting compared to HD but it does not give the radiating and natural look like the latter one.
HD makeup can always steal the show! However, depending upon the occasion, budget, and personal preference you can go for any type of makeup you want.
References-
https://www.byrdie.com
https://www.bebeautiful.in/all-things-makeup/occasions/questions-to-ask-when-hiring-a-bridal-makeup-artist
https://www.shaadisaga.com/blog/airbrush-makeup-vs-hd-makeup-which-one-is-better