Every time you eat, it's your opportunity to nurture yourself with healthy nutrients. Remember, healthy outside begins with a healthy inside. A healthy routine of food intake works best for your calorie and weight management goals. Your healthy daily ingestion plan should include recipes with vegetables, fruits, whole grains, low-fat dairy products, lean meats, fish, eggs, beans, and nuts. Here are some healthy, nutritious recipes that should form part of your daily eating routine.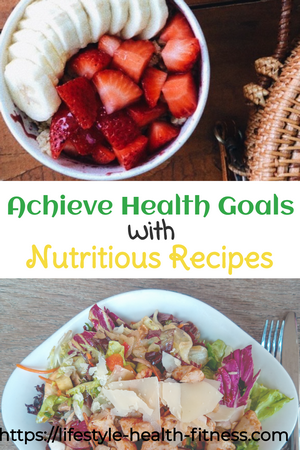 Breakfast
Always begin your day with a breakfast of healthy, Nutritious Recipes.
Low-fat butter, chia seeds, and Banana
It is one of the healthy recipes that fill your stomach well with its nutritious fillings.
Ingredients consist of whole-grain bread, 1-tbsp of butter, 1-teaspoon of Chia seeds, and sliced banana.
Just toast the slices of bread, apply a layer of butter, place banana slices on top and sprinkle Chia seeds on top. It is ready to eat.

Food value: 209.9 calories per toast and protein 8.5g
Eggs with Oatmeal
There would be many who would not appreciate it as a tasty breakfast, however, you can make it savory with a few smart changes.
Prepare oatmeal with milk or water, add a pinch of salt and pepper. Put a poached egg on its top along with little cheddar cheese for extra taste.
Food value: 262 calories per helping with 13g protein
Smoothie of Yoghurt with Berries
Try this refreshing smoothie packed with healthy nutrients for a great day ahead. Use a mix of blueberries and blackberries with a cup each of Greek yogurt and soy milk with a whole banana. Enjoy this lovely glass of smoothie.
Food Value: It's a low-calorie food with lots of vitamins and other nutrients.
Lunch
Fiber-filled white Bean and Mozzarella Sandwich
The white beans are a good source of fiber besides having other nutrients making this sandwich a perfect filling lunch for you. Take a cup of boiled white beans or get canned beans, red bell pepper in four pieces, vinegar, and olive oil. Mix all in a frying pan with little oil, add salt and pepper, and add cut tomatoes, if you like. Cook well and stuff this filling into the loaf pieces and enjoy your sandwich.
Food value: One sandwich would have 414 calories besides fiber, protein, etc.
Wholegrain Sandwiches and Avocado
This is a wholesome lunch for you. Get a whole grain bread, chopped capsicum, tomatoes, mashed avocados, leafy, and green leafy veggies, and grilled chicken. Mix all and cook for some time until contents are tender. Make a sandwich and enjoy your tasty and healthy low-calorie lunch.
Dinner
Spicy Lentil and Carrot soup
Take half a cup of split red lentils, ½ kg grated carrot, and cook in a pan after frying cumin seed in a pan. Add chili flakes for a taste. Take this cooked material into a grinder, season it, and mix little yogurt. Try this soup, it's low in calories and high in proteins and fibers.
Lemony Chicken Breast with Brussels Sprouts
Try the amazing dinner recipe packed with phytonutrients that includes Broccoli stems and Brussels Sprouts. It has boneless chicken breasts, celery, parsley, Parmesan cheese, hazelnut, lemon juice as its main ingredients.
Food value: 309 calories in a bowl with multiple healthy nutrients
Related Post:
Amazing benefits of chia seeds and how to include them in your diet