Pumpkin seeds are originally a part of Mexican cuisine eaten in roasted form. However, today pumpkin seeds are largely enjoyed in American and Asian countries also. These seeds are home to numerous vital nutrients, vitamins, and ant-oxidants, which provide deep nourishment to your body. Regular consumption of these nutritious pumpkin seeds boosts your immune system and reduce the risk of various chronic diseases such as diabetes.
Some delicious ways to eat nutritious pumpkin seeds
1. Flavored pumpkin seeds pumpkin pie recipe
 Ingredients
2 tbsp pumpkin seeds
1 1/2 tsp. pumpkin pie spice
3 tbsp. brown sugar
2 tbsp. Butter
Preparation
Preheat oven at 3500
Now, add butter in the oven tray and leave for 20 seconds or until completely melted.
Remove it and add pumpkin seeds and pumpkin pie spice to it. Mix it well.
Take a baking sheet, which is attached to parchment paper, and spread the mixture evenly over it. Cover it with parchment paper.
Bake the mixture for half an hour and your pumpkin seeds pie is ready.
2. Spiced honey-roasted and seeds of pumpkin
Ingredients
2 cups pumpkin seeds
1/8 tsp garlic powder
2 1/2 Tbsp honey
sea salt to taste
2 tsp olive oil
1/4 tsp smoked paprika
1/8 tsp cayenne pepper
1 tsp chili powder
     Preparation
Boil the pumpkin seeds for 2-3 minutes and then dry them thoroughly using a paper towel.
Meanwhile, preheat the oven at 3500.
Take an oven-safe skillet, pour some oil, and sauté pumpkin seeds over it on medium flame.
Add all the spices to the skillet and cook until seeds turn golden brown.
Now add honey to the mixture and stir well.
Transfer the skillet to the oven and roast for another 30-40 minutes. (Until the seeds are completely cooked and crispy from within.)
Do not forget to stir every 10-15 minutes while it's been roasted.
Remove the skillet, spread the seeds on a baking sheet, and sprinkle salt over it and it's ready to eat! 
3. Smokey barbeque spiced roasted nutritious pumpkin seeds
Ingredients
1 ½ cup raw pumpkin seeds
4 to 5 squirts of olive oil spray
1/2 teaspoon smoked paprika
1/4 teaspoon light brown sugar
1/4 teaspoon ground mustard
1 1/4 teaspoon onion powder
1 1/4 teaspoon garlic powder
1/4 teaspoon cayenne pepper
1/2 teaspoon kosher salt
 Preparation 
Preheat the oven at 3000 F and roast the pumpkin seeds for 10 minutes.
Remove it and spray some oil over it.
Take a small bowl and mix, brown sugar, cayenne mustard, garlic powder, smoked paprika, and salt thoroughly into it.
Add 3/4th of the above spice mixture to coated seeds and mix well.
Now take a baking sheet, spread the seeds evenly over it, and cover with parchment.
Roast it for 20-30 minutes until golden brown. (Flip once after 10-15 minutes)
Remove the mixture, add some olive oil and leftover spice mixture to it, give it a good mix, and it is ready to serve!
4. Cinnamon, Sugar, and Nutritious Pumpkin-Seeds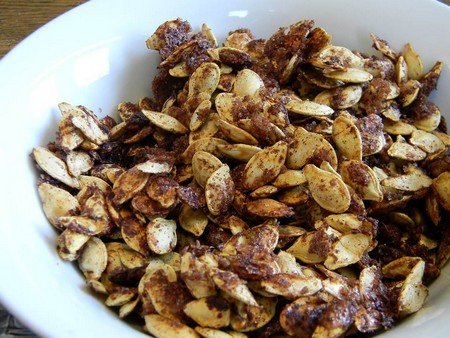 Ingredients
Preparation
Preheat oven to 325°F.
Grease a large baking pan and set aside.
Take a small bowl and mix cinnamon, sugar, and salt together and set aside.
Melt coconut/ butter in a large microwave-safe bowl.
Remove from heat and add vanilla extract to it.
Now put pumpkin seeds and coat it evenly.
Add all the dry ingredients to the pumpkin seeds mixture and stir well.
Spread pumpkin seeds on baking pan in a single layer.
Bake it for 25-35 minutes until seeds turn golden brown. (Stir after every 10 minutes)
Remove a few seeds and check if they are hardened if not, roast for another five minutes.
Take it out from the oven and transfer to the pan which is lined with parchment paper, let it cool and it's ready to serve!
Related posts:
Reasons to Include Pomegranate Seeds in Your Diet Plan
Include these healthiest super seeds
References-
https://www.delish.com/cooking/recipe-ideas/recipes/a44061/pumpkin-pie-flavored-pumpkin-seeds/
https://joyfoodsunshine.com/cinnamon-sugar-pumpkin-seeds/