Facial skin is quite delicate and its care depends upon the types of skin. To preserve lovely, flawless, and younger-looking skin you need to be persistent and regular in your facial skincare programming. Cleansing of the face is the first and most important step in face care maintenance. Remember not to use soap or any other harsh product to cleanse your face as these products will remove too much sebum, moisture and strip away the natural protective barrier and from your skin.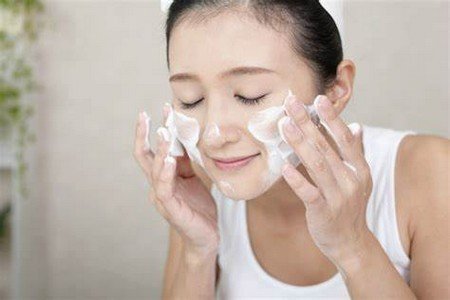 Often you may feel that your skin carries some dirt particles, stain, and makeup from yesterday or pores do not look clean even after taking shower and cleansing the skin. As such selection of facial cleansers is very important as every facial cleanser may not get rid of you all the makeup on your eyes. To remove eye makeup you should use liquid makeup remover. Use a cotton ball and first apply it on the top of your eyelids, wipe down your eyelashes and then clean the skin under your eyes. You do not need to use make up remover every day but may need to use it often in the rainy and winter season. Proper cleansing of the face also depends upon the method of cleansing.
Method of the cleansing of the face
Since cleansing removes dirt, dust pollution, makeup, extra oil, impurities, and dead cells from the skin surface and loosens the blackheads from the pores as such a correct method of cleansing is very important.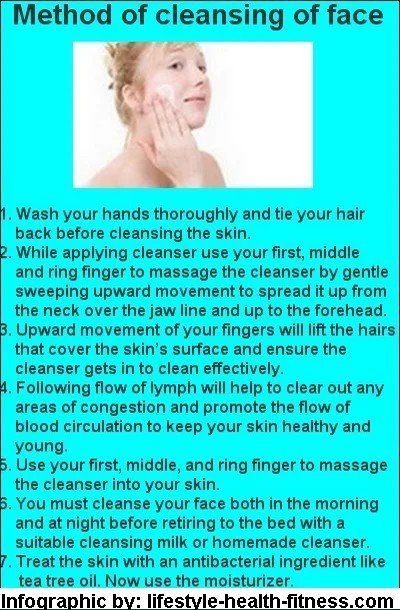 Cleanser Recipes:
You can prepare cleanser recipes at home with the ingredients available in your kitchen or at nearby grocery shops/supermarkets. Homemade recipes are safe, effective, and cheap.
Some of the cleanser recipes are given here—
Basic facial cleanser recipes
Ingredients:
2 tablespoon baking soda.
1 teaspoon honey.
One teaspoon mashed cucumber pulp
Preparation:
Mix all the ingredients and stir efficiently to incorporate all the ingredients.  Those with sensitive skin may add 1-2 teaspoon fresh orange juice for better results while the inclusion of 1-2 teaspoon plain yogurt will be beneficial for dry skin. Those, who have oily and acne-prone skin, should add 1-2 teaspoon cider vinegar to get clean and clear skin.
Another Cleanser recipe that you can prepare at home is given as under:
Ingredients:
1. 3 Table Spoon of Coconut Oil
2. 1 Table Spoon Olive Oil
3. 1 Table Spoon Glycerin
4. 2 Tea Spoon water
Preparation:
Put all the ingredients in a pan and simmer on low heat until all the ingredients liquefied. Mix well and let the mixture cool and then fill it in a bottle and keep in the refrigerator to maintain thick consistency.
Massage this recipe over the face and rinse with Luke warm water and pat dry. This cleansing recipe is moisture-rich and nutritious for your face.

Glo Skin Beauty Essential Cleansing Oil
You can find more interesting details about various types of cleansers, toner, moisturizer, exfoliation recipes, facemasks, and sunscreen as per types of your skin, method of using, and precautions at "Natural Skincare Guide- Home Made Recipes"