The best and simple way to maintain healthy and younger-looking skin is to take care of it daily and properly with natural means. Your skin faces the negative effect of the environment every single day.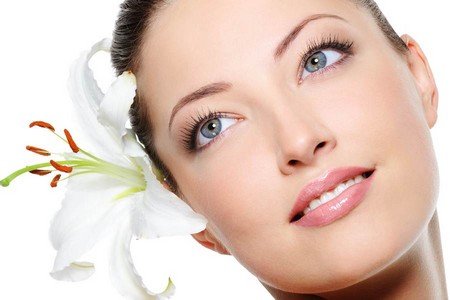 Here are some tips for keeping your skin fresh and healthy:
1. The first step towards maintaining healthy skin is cleansing. To get rid of dirt particles, you must cleanse your face morning and night with a gentle, natural cleanser and then treat it with an antibacterial ingredient like tea tree oil. Using warm, (not hot), water and a mild cleanser gently wash your face and then rinse thoroughly with warm water. Soaps of any sort should not be used on the face as they can be too harsh, drying out the skin and clog pores. You can prepare a cleanser at home for details to see face care.
Skin does not require daily scrubbing. You will do more harm than good if you do. Scrubbing and exfoliation of the skin depend upon the type of skin. Somebody parts require daily exfoliation, some twice a week, and some once a week. Find more details about exfoliation and its type.
2. After cleansing the skin spray a fine toning mist over the face to cool to close the pores. Let this mist dry on the face. For toning dampen a cotton pad and wipe gently all over your face to remove the last traces of cleanser and any dirt or debris remaining on the skin. This step will help to close the pores and to enrich the skin with an active anti-aging and rejuvenation treatment. You can prepare an anti-aging toning recipe at home.
3. When the toner has dried apply a very small amount of moisturizer over the entire face and neck. Moisturizing helps to retain and seal in the skin's natural moisture as well as to provide a vehicle to introduce an anti-aging treatment to provide the skin with the resources it needs to stimulate and reinforce rejuvenation. Apply your moisturizer with an effective active anti-aging ingredient to warm, moist skin in a circular upward motion making sure to avoid the immediate eye area.

Glo Skin Beauty Oil-Free Moisturizer 1.7 oz – $45.00
from: BeautyStoreDepot.com"
4. Once a month use a home steam treatment to thoroughly draw out impurities from the face.
5. Stay hydrated and does it with plenty of water and flush your body free of toxins. Stay hydrated does not mean soda, caffeine, or any other type of liquid. Soda (even diet soda) has a high concentration of sodium. Sodium retains fluids. You need fluid that will hydrate and flush your body free of toxins. Make sure you are drinking at least 8 glasses a day!
6. Eat healthily. Improper eating habits can cause depression, weight gain, illness, and overall lethargy. Weight gain causes your skin to stretch. You can control your weight in a natural way by doing some exercises/asana without any outside support.
7. Get the right amount of sleep as a lack of sleep will reflect in the state of your skin. Seven hours is generally adequate. Not enough sleep over a period of time will result in problems that are hard to cure such as loose skin under the eyes and dark circles.
8. Get out into the fresh air and take a walk, do swimming, ride a bike, or do any other physical activity and have fun!
9. Laugh a lot. You will find a positive change in your body and mind.
10. Do meditation for five minutes each day.
For more cleanser, toner, moisturizer, scrubs, facemask and sunscreen, and anti-aging face masks recipes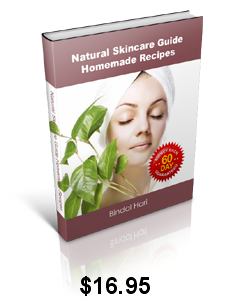 Buy "Natural Skincare Guide- Homemade Recipes" for just $16.95